The best time to invest since 2010!
---
JP Morgan Asset Management
John Bilton, head of global multi-asset strategy at JP Morgan Asset Management said in his report for 2023 and the future that this is an incredibly interesting time to invest in the stock market. A chance we haven't had since 2010, he says.
And there are multiple reasons for that optimism. Stocks are back on par, he says, but the fundamentals are still intact. The ideal time to set up a portfolio for the long term. And there is more, history has proven that the best days on the stock market always follow the worst days on the stock market very shortly. As he says it: "It's always darkest before dawn".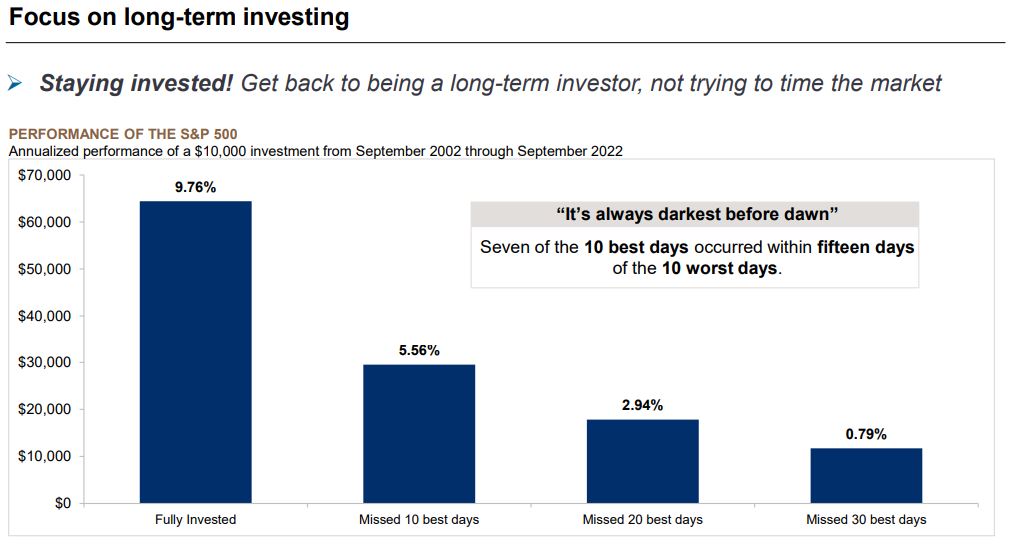 This chart shows how important it is to stay invested, even in dark days
This is "bizar" optimistic, but they have their reasons, they expect a large cap stock return of 7.7 % for 2023. Inflation to drop to the level the central banks are steering it and if the cyclical weakness continues, the forecast could even be better that they projected.
Of course, they still expect volatility on the markets in the short run, but on the longer term things are looking pretty damn good. And I think he is right. Stock markets are way underrated, especially compared to the profit margins. We could be in for a hell of a bull run. And my suspicion is, that this bull run has already started.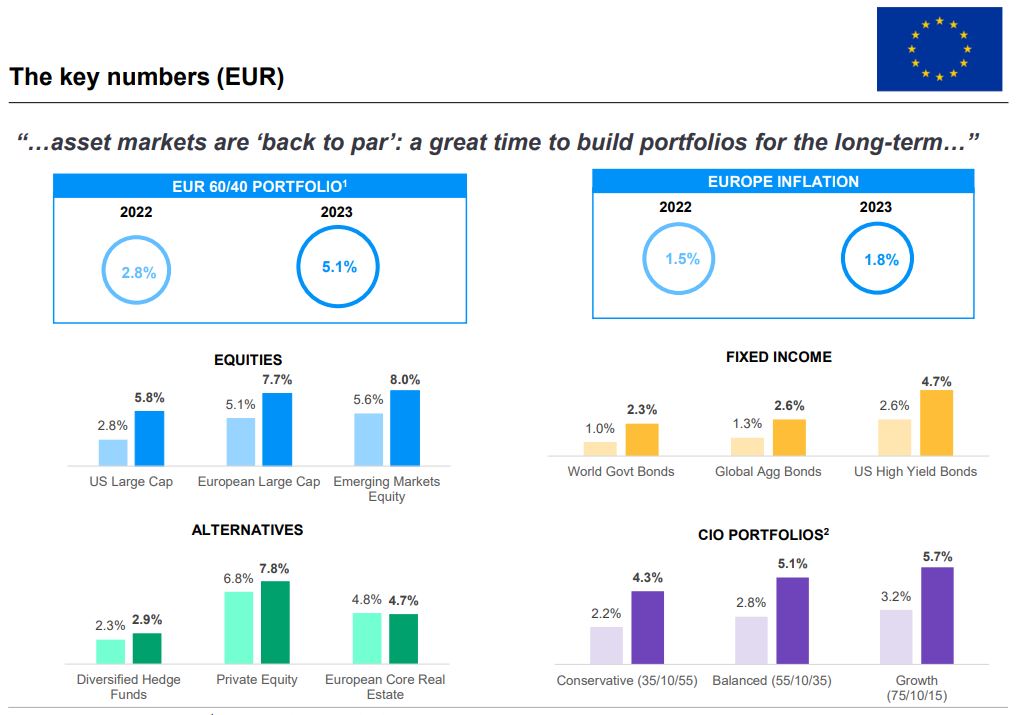 The projections of JP Morgan Asset Management look very good for 2023
The same for crypto?
Can we expect the same for crypto? Yes, that is of course my own opinion, but we are still in rough waters. With the FTX debacle, and Blockfi demanding Chapter 11.
The short term for crypto is still worse than for the stock markets, but once again, we can say the same, crypto is cheap right now, very cheap. Especially the big guns like Ethereum and Bitcoin are safe bets in my opinion. For the altcoins, there will be a shake out. Some will cease to exist, like FTT and other platform related coins. But that is not necessarily bad. That means that more money can flood into the good projects, like Hive. And with the projection that @khaleelkazi made yesterday in his post. I think we are in good waters with Hive.
Interesting times!
Sincerely,
Pele23
Posted Using LeoFinance Beta
---