The Bank of Canada (BoC) raising rates on December 7
---
It is that time of the month again. The Bank of Canada is raising its primary interest rate again. There is no question around whether they are raising it or not. It is all about how hard the Government is going.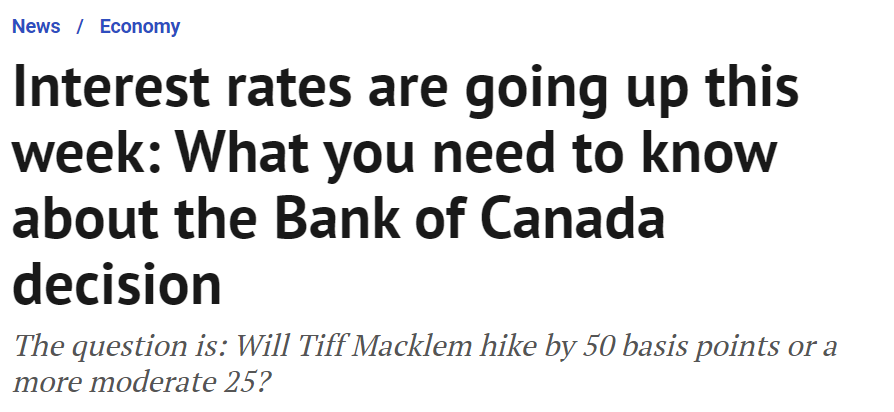 To be honest, I feel that they are lagging by two months in feeling the actual market pulse. The CPI data comes a month after and the Bank is not using its common sense. Ofcourse, they cannot use their common sense as they have hired super smart people to do the monthly analysis.
That sounds so creepy.
Here's a news piece that is going around online today where the BoC head is nodding to the notion that the federal spending last year was too much.

The Bank of Canada's next rate hike: a toss-up between 25 and 50 bps
Oh yeah, you just realized that. We commoners have been pointing that out for months and they never listened. Now, we are saying not to raise the rates as this inflation was never triggered by traditional economic theory of non-purchase. This was fueled by the pandemic and then by the war that's happening. Recession is coming and the government knows this.
They are hoping that things play like they are planning it to be. Let's see how that goes.
For now, I am fully prepared that the rate will go up by 50 basis points. There are Bay street experts guessing that the Bank would go soft and raise it by 25 points. I don't think so. They need to act like they know what they are doing.
So, another monthly increase of the mortgage payment and a deeper hole in my pocket.
Posted Using LeoFinance Beta
---