Is Bitcoin (BTC) getting ready for a bull run?
---
Bitcoin (BTC) recovered after a few days of decline and started to rise again. The bulls managed to seize the initiative and BTC climbed above $30000. After this rise, the top 10 coins by market cap turned green.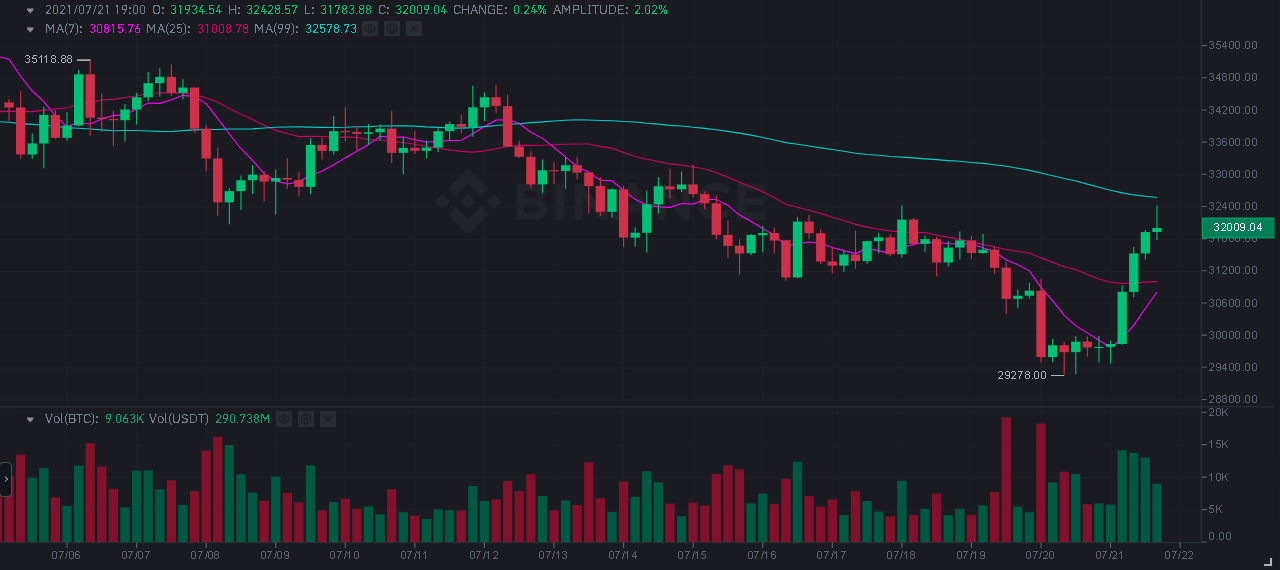 When we examine the hourly chart of Bitcoin (BTC), the volume of purchases has started to rise, which means that the bulls are dominating. But Bitcoin has entered the overbought zone, and there may be some decline. Bitcoin (BTC) has managed to surpass $32000, up about 8% today. Bitcoin (BTC) is currently trading at $ 32,009. In the coming hours, there may be a slight decrease with price adjustment.
Also, in my previous articles, I wrote that Bitcoin (BTC) has very solid support at the level of $ 30000. I stated that even if it falls below $30000, it will rise again. You can read yesterday's post
Bitcoin's support at $30000 has been tested by the bears several times, but they have never been successful. I think it is very difficult for them to be successful. The bulls will continue to maintain this level. Also, the selling volume is currently low Bitcoin (BTC) could test $34000. But first, it needs to break the $32,650 resistance. If he doesn't succeed here, the bears can take the initiative back again. But I think it can break that resistance.
Some wealthy and institutional investors are trying to push Bitcoin (BTC) below $30000. At these levels, they may have plans to purchase for their customers or themselves. Therefore, the volatility in Bitcoin will continue for a while. But breaking the $30000 support will never be easy. In addition, I think most of them have plans to buy at the $25,000 level. If they can achieve this, they can make much more profit. But if the bulls do not allow it, they will miss the opportunity to invest even at current prices.
Worry and fear still remain in the markets and although many investors are convinced that Bitcoin will drop below $30000, Bitcoin still manages to stay strong. In other words, we are in a period where pessimism is too much as in 2018. This signals that the bull season is near. The bull run can start anytime, but according to my reviews, I think it will start in September.
Additionally, I think it will continue to draw Bitcoin V charts until September or until the bull run starts. According to my current reviews, it can go up and down a few more times between $29000 and $36000. Finally, we must not underestimate the strength of bears. Although it is difficult, if they succeed, Bitcoin (BTC) can fall to $ 26000. But even if there is a regression, it will soon return to 30000 dollars. I recommend that you be careful of sudden extreme drops or extreme increases and be prepared for such situations.
Bitcoin (BTC) still has the strength to reach $100000 by the end of this year.
These are my thoughts. What are your thoughts?
Posted Using LeoFinance Beta
---