Is The Bull Run Of Altcoins Starting?
---
Bitcoin (BTC) has performed unbelievably this month, reaching the highest levels in the last 5 months. It signaled that it could go higher, surpassing $58,000 yesterday, but a drastic price adjustment may be imminent. While Bitcoin rose, the price of many altcoins remained stable or declined, so Bitcoin Dominance (BTC.D) rose as high as 46.75%. But now things can turn around. Even if Bitcoin does not decline, Altcoins can start a rapid rise to close the gap.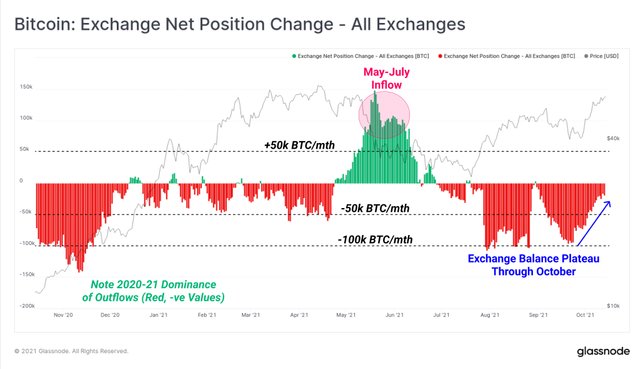 Source
According to Glassnode data, there is a significant decrease in Bitcoin outflow from exchanges. This shows that investors prefer to keep their assets in the exchanges or that inflow are starting to increase. When an asset starts to outflow the exchanges, the selling pressure decreases, which causes its price to increase, but when it starts to inflow the exchanges , the selling pressure may increase, which may cause the price to decline. Increasing inflows does not mean that investors will turn their assets into cash, but it does cause many investors to worry.
On the other hand, investors' holding their assets in exchanges increases the probability of selling when they reach their price targets. This may even result in a drastic price adjustment. But when I look at the current data, I think investors can turn to other assets with a higher potential to rise instead of turning to cash. In the coming days, investors can switch to altcoins by selling Bitcoin. Because there are many coins that have not had their share of the last rise, which signals that they can start a rise. In addition, even if this does not cause the Bitcoin price to decrease, it may cause it to remain in the fixed range for a while.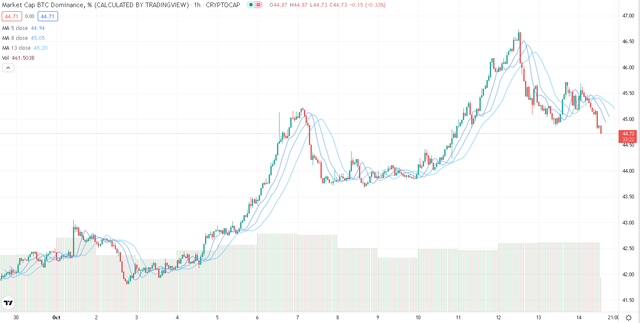 Bitcoin Dominance started to decline after rising 46.75% 2 days ago, today it has dropped to 44.73%. This shows that investors are starting to turn to other crypto assets.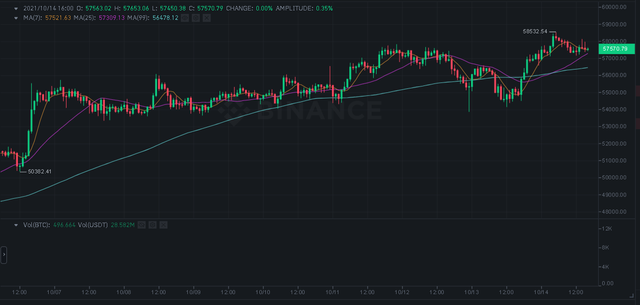 Bitcoin is currently trading at $57,570 and remains in an uptrend. Although it managed to exceed $ 58,000 yesterday, it was rejected from there. According to the latest data, it shows that it wants to move higher, but on the other hand, price adjustment seems to be close. It may be stuck between $56,000 and $58,500 in the coming days, but if it manages to surpass $58,500 and create support, it could continue higher. There are resistances at $58,200 and $58,500. It has support at $57,150 and solid support at $56,450.,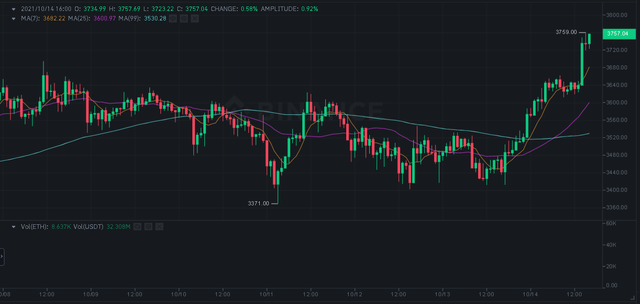 Ethereum (ETH) managed to draw a long green line today. It rose approximately 8.5% to $3,757. Ethereum signals that it is ready to start a rapid bullish run.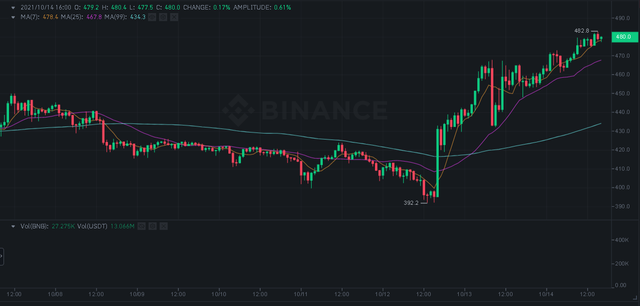 Binance Coin (BNB) continues its rise that it started for a few days. It's up about 4.6% today and hit $480. In the last few days, it has been seen that investors have turned to BNB, which creates an important support for BNB. And it looks like it will continue to rise.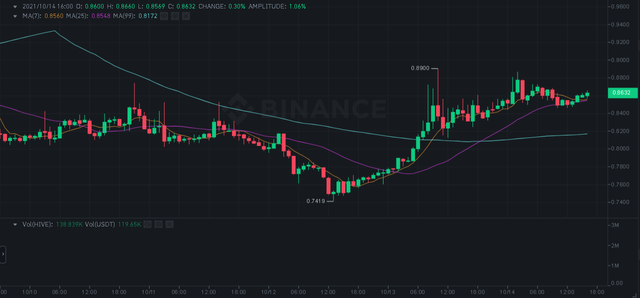 Hive has been one of the cryptocurrencies that has managed to attract significant investors recently, but I think it has not received its share of recent rises yet. Although it is up about 2.6% today, it signals that it can move higher. It is currently trading at $ 0.86, I think it will test $ 1 again in a few days.
When we examine the cryptocurrencies, which are among the top 10 cryptocurrencies by market cap, Cardano (ADA) increased by 4%, trading at $ 2.20, XRP increased by 4.2%, trading at $ 1.14, Solana (SOL) increased by 6.4% trading at $ 154.8, Polkadot ( DOT) increased by 17.44%, trading at $41.
In short, many cryptocurrencies in the crypto market have turned green and started an upward trend. It seems that investors are starting to turn to other assets with strong infrastructure as selling pressures will increase on the side of Bitcoin and price regulation is felt to be imminent. This signals that altcoins are ready to start a bull run. Bitcoin may continue to rise, but I think altcoins will go up faster. In the coming days, I think that many cryptocurrencies with strong infrastructure, especially Ethereum (ETH), Binance Coin (BNB), Hive, will make a rapid run to higher heights.
Posted Using LeoFinance Beta
---