The Wrong Investor Mindset for Crypto
---
To die, To Sleep - perchance to shutdown...
Ay, that's the rub
Vacation begins.
Does anyone else dislike the term "vacay" as much as me?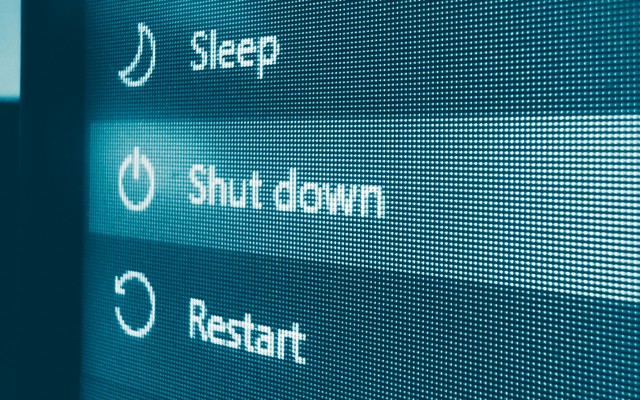 I didn't make it to my full quarterly bonus...
88.75%
Considering, better than nothing. The difference isn't going to ruin me, though considering what has changed in the last few weeks for me to get a bonus, I think I did a better than expected job and met almost every target, regardless of 3 months of extra work being pushed into 2.5 weeks. I mean, I smashed it!
Oh well.
Time to shutdown the work PC, take my mind to other places and forget my login passwords.
That is ITs problem for August.
I was thinking...
What's the problem with investor perspectives on crypto?
They expect it to work like traditional investments.
They think about it like it is a normal trading stock in the traditional markets, yet they are also driven by the marketing hype behind it, the big pumps and the massive drops.
Bitcoin has lost all its value gained over the last two years. Fail!!!

OOPS!!
That is AMAZON!
They also don't seem to understand the potential in the volatility. They look at the "losses" by MicroStrategy on their holdings, but what will they say at the next pump? Well, less, because they will be FOMOing in and driving the value of everyone else's holdings back up and with more volatility, because...
Hodlers gonna Hodl.
Each round, there is less and less BTC hitting the markets, which drives the prices up, with those who are buying spreading the holder-base, so that the following pump after, less will hit the market again. And then, when it reaches the highs, it will drop again as those with extra will dump a bit, and because the markets are thinner, it will fall fast and hard, to begin the cycle again.
They are looking at crypto through the wrong lens, as they are connecting its attributes to what they know, like a person approaching a lion as if it is a domestic cat.
They are going to get mauled.
The more that this all happens, the more confident I am becoming that crypto will fundamentally change global economics, because it shows just how unaware the average investor and economists position is. They are still looking at crypto as something they own and control, not something that is owned and controlled through decentralized mechanisms. They treat Bitcoin like it is a single project, but it is not - there are thousands of businesses built into that framework - Bitcoin isn't a currency, it is a platform.
Crypto in general is a platform.
The "Layer 1" we talk about on Hive is the tokenized baselayer that enables second-layer solutions like Splinterlands or LEO to be built on it, but it is not the "true" layer one. This is the same for Ethereum, or other multi-token solutions.
Layer one is crypto.
All of crypto.
Layer one is the entire crypto industry that is enabling the decentralized tokenization of activity and transactions, in whatever form they happen to take, tailored to a business, location, community or automated market of some kind.
Decentralization is the base.
The ability for anyone to create a tokenized experience. The enablement of global partnerships to be built in a trustless environment. The possibility for someone to create and own something out of thin air, convincing others of its value in the same way government-backed central banks do it today.
Crypto is the base that enables everyone to be banked.
And, it is because of this shortsightedness and inability to image different than the know and have experienced, that the average investor is unable to get their mind around the value propositions. In their head, the value of something is because not everyone can own it, but they aren't seeing the value of something that,
Everyone can create.
This ability fundamentally changes the relationship of the investor with the asset, because it shifts the gateways into the investments. It cuts out those centralized entities that dictate what is allowed to be owned and how it is allowed to be used and, says - anyone can create assets and if they are able to convince others there is value, there will be value.
The importance of this is immense.
Because it creates mobility of assets in a way that has never been seen before. Something like gold is a great store of value (possibly), but it is very illiquid and notoriously difficult to transport. Crypto of course solves this issue being highly transferrable, but it doesn't necessarily mean it has value. However, while Bitcoin can be seen as a store of value, the value comes from the convincing that it is valuable and, there is no actual need for it to be Bitcoin, because a fork doesn't just change the name, it can potentially make all that value attached to it instantly mobile, converting it into a completely different asset.
Of course, once businesses are built around crypto, they start to become less liquid, but they also start to stabilize, because the value becomes attached to the business activity, as well as the market sentiment. This means that crypto businesses will have to prove themselves to the userbase, not just the investor base, which will ultimately mean, making the users investors too. As the Web3 culture that breaks down the barriers between the invested and the uninvested becomes the norm, everyone wants an ROI and, they aren't satisfied with stars and hearts - they want to be able to use it to buy something they value.
And at this point...
The investor mindset shift is in full swing
Because the average person is both using crypto and considers themselves an investor, the entire market sentiment shifts to support a decentralized tokenization model. But, consider this for a moment - when all of those "new" investors expect to earn on their investments, including their usage and consumption, what happens to the traditional business models and markets?
For in this sleep of death what dreams may come...
Dream bigger.
But for the traditionalists -
A nightmare awaits.
Taraz
[ Gen1: Hive ]
Posted Using LeoFinance Beta
---