12 Design & features tweaks to supercharge the leofinance.io platform
---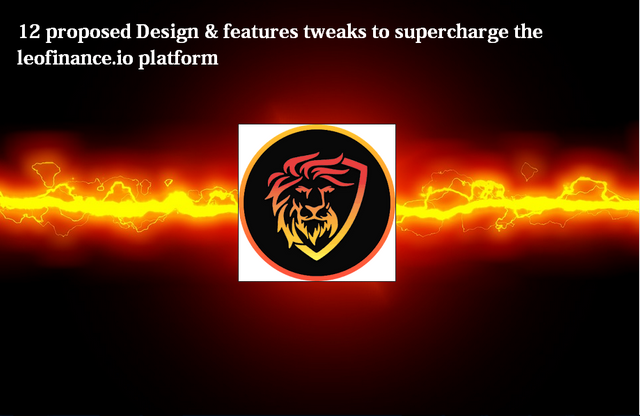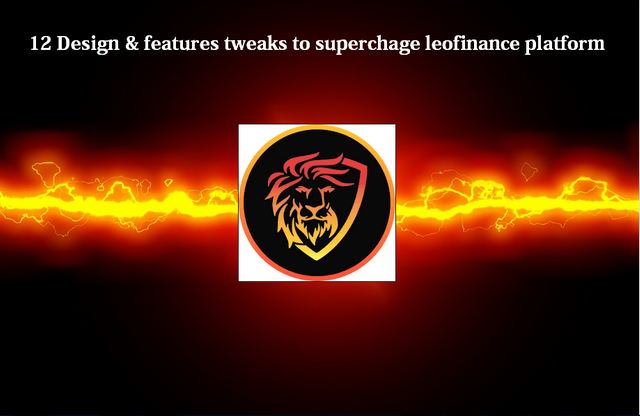 source
Leofinance.io is doing great however since the road to progress is always under construction and secondly leofinance.io is already considering a design overview thus I present a couple of tweaks and feature additions that I feel can help leofinance.io go further and grow faster.
#1 Tags Tags and more tags
Keywords are to key to telport the leofinance.io content gems to google front page and put leofinance.io on a world pedestal.
That being said we need to have option to use more keywords for better promoting leofinance on google.
Since we tend to use up all 10 of the keywords options to increase visibility withing the various communities/ tribes on hive additional 10 could be used for targeting keyword that are being searched on search engines like google.
In addition the location of the tags should be below the post a lot like how peakd.com puts it below the post.
#2 switch layout feature
There is a school of thought that pages that do not need have a scroll bar offer a better user experience. Now this is debatable however people have their choices. So I would very much like to see the ability to switch the layout on the go to make the scroll bar disappear and give the matter of the post more space to spread out.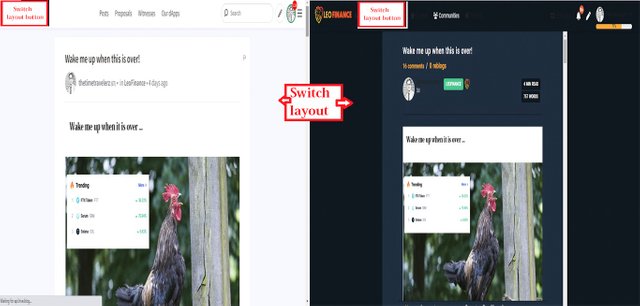 Let us give incentive & sense of ownership to users to promote leofinance.io
#3 Give users opportunity to have sub domains
This gives users a sense of ownership on the leofinance.io platform.
Having your own domain gives a user a sense of ownership and what if we on leofinance.io offer users domains like
username.leofinance.io
These are subdomains or vanity domains which users can own and use to publish their own content under their own website.
In addition a placeholder to put contact information like email, physical address etc so that the user feels that his domain is like his business page.
This can be rolled out on an experimental basis and if there a scope of abuse then it can be a premium feature unlocked when you reach a certain reputation or stake like 2000 leo tokens.
This would boost the leofinance.io economy.
#4 Opportunity to place own ads on our sites.
In addition to own subdomain it would be super cool to have dashboard using which a user can display own ads.
The incentive would be to have users more impressions and page views to leofinace.io
The ad space would have leofinance.io links and banners.
#5 Display page views
Page view is an important source of information to see how many times a page has been viewed.
This should be available to a user and with the option of turning page view count on or off for the viewers and yet remaining available to the user via a dashboard.
#6 Traffic analytics
It would be extremely useful to have detailed page analytics available from a analytics dashboard from where a user can see the page/ posts which are getting most views and from which demographies.
#7 Never maturing posts
Now we want to keep leofinance.io at the forefront of crypto, blockchain financial and everything that comes inbetween.
So users can create guides, tutorials etc which are ever green in nature. Perhaps by way of using a special keyword such content can continue to get paid out every 7 days even after the passage of first 7days.
This would give a lot of traffic to the leofinance.io patform. This model can be tweaked to add more revenue for leofinance and the funds generated can be used for buyback and burn or for development efforts.
#8 A Page view token
It would be wonderful to have a sub token of leo that rewards users based on the number of page views a post generates.
#9 Ability to share threads additionally on twitter
This way a user can leverage his twitter account and being
#10 Let us share leothreads on twiier
Currently the threads we create stay only on the leofinance.io and hive blockchain.
However we can create an option of linking twitter accounts to leofinance.io accounts so that at the time of creating the thread
We can use the option of creating the thread and sharing the thread as tweet on associated twitter account as well.


#11 embed a leofinance.io signature on shared post
Everytime the thread is shared on twitter by the "Create Thread & Share on Twitter" button would incorporate a leofinance.io hyperlink signatute which a user on twitter can click and come to leofinance.io landing page and offer to signup.
Additionally we can have option to share thread on facebook and other web 2.0 social media accounts.
#12 A referral program & incentive for on boarding
Each leofinance.io should have a referral program to help users promote leofinance.io via their own referral link available via their dashboard.
Final thoughts
Klal @khaleelkazi & the core team have done a great job in shaping leofinance.io to what it is.
We as community bring in some real world experience as well so if we chip in with our experiences we can make the platform more prosperous and rewarding for one and all.
What I share here are just a couple of suggestions which can be expanded upon and fine tunes. I bet we as a community has a lot of collective intelligence and together we can come up with a lot many more ideas.
Please do share your views.
If you likes the post then do up vote and share so that the message can go far and wide.
Hope @khaleelkazi and the core team reads this post and share their views as well.
Posted Using LeoFinance Beta
---