The Arrival Of A New Cub To The Den of Leofinace Lions
---
Ever since my arrival to the hive blockchain about 7 month ago, I've been privileged to explore different communities on the blockchain, but then I usually shy away from communing with the leofinace Community, because I felt it's for financial and crypto elite, who've acquired credible knowledge from the nooks and crannies of finance, so I thought dropping my layman's opinion/view might not add a significant value to the blockchain like others view would, but all thanks to @leogrowth initiative, I've develop a new mindset and view on how to relate with leofinace.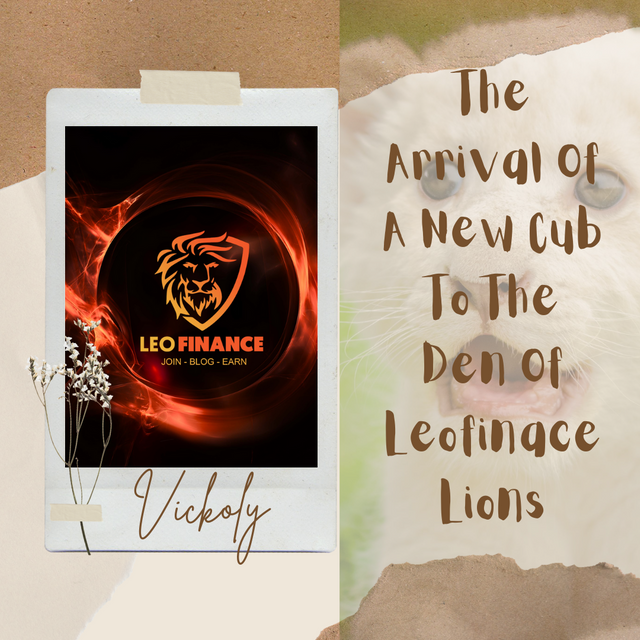 Edicted with Canva and Leogrowth image
Prior to the time @monica-ene told me about this post, I've always shy away from anything cryptocurrency related discussions, even though I knew joining hive is a step into crypto, but I was careful not to get flood away by it wave, so I maintain my distance by just sharing the diy contents on my Shoemaking craft, and something wrote about life in general, but henforth, I think I'll need to add the financial conduct aspect to my of mutual engagement list.
I believe the financial aspects of my Shoemaking business would be a plus to discuss about, the navigating view and tips on how to cut cost and still build a quality Footwear's, would be a valuable addition content to my fellow Shoemaking, and such can as well can be relatable to other spheres of life and business, which will in the end goes a long way in educating people in my own way.
And aside that, hive is my first cryptocurrency experience, and I haven't taken any step in equipping myself with knowledge that'll enhance the way I deal with crypto, but I believe the @leofinance Community will be the best place to get concrete knowledge about cryptocurrency, cause I've been privilege to read some mind-blowing write-up here, and I must confess, this space is loaded with financial elite, whose knowledge goes beyond crypto alone, but other finance talks that connects with our daily lives, and will in the end, aid the our financial dealings, knowledge and security.
Finally, I hope to build a strong financial network, and as well become a knowledgeable fellow in the area of finance and hopefully dish out top-notch finance content on this space, the Leopedia is a place I believe will impact me positively too, and I'll begin reading as much as I could henforth.
Thanks so much for taking out time to go through my post, I hope this young cub is welcome to dine among the elite lions on this Space?
Posted Using LeoFinance Beta
---