Welcome to the Daily Crypto News: A complete News Review, Coin Calendar and Analysis. Enjoy!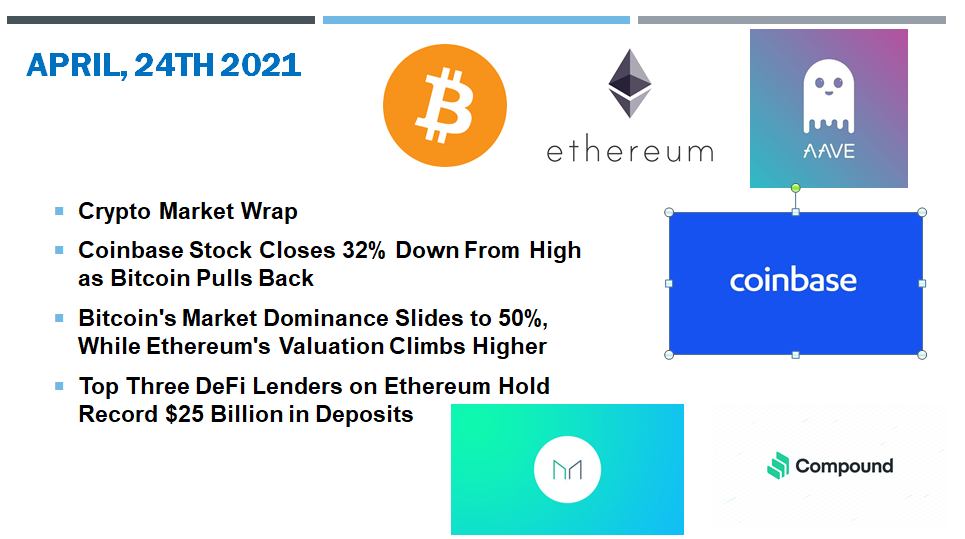 Bitcoin's 24-hour range: $$47,875-$52,557 (CoinDesk 20)
*BTC above the 10-hour but below 50-hour moving average on the hourly chart, a sideways signal for market technicians.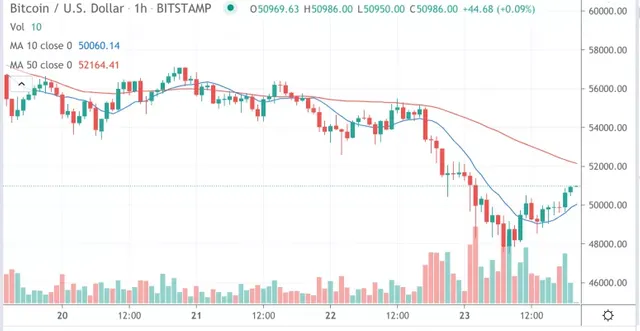 The price of bitcoin fell over the past 24 hours, with the asset dipping as low as $47,875 around 09:00 GMT (4 a.m. ET) according to CoinDesk 20 data. The price is now retrenching from the loss, at around $50,993 as of press time.
"My take right now is that the Joe Biden tax has something to do with it. Sellers probably jammed the market, and bids disappeared," said Consantine Kogan, partner at investment firm Wave Financial. "U.S. participants are just a portion of the market but probably the wealthiest, both corporate and retail."
As usual, liquidations, the crypto market equivalent of a margin call on Wall Street, exacerbated the price drop. According to data aggregator Bybt, over $3.4 billion in long liquidations occurred across all cryptocurrencies in the past 24 hours.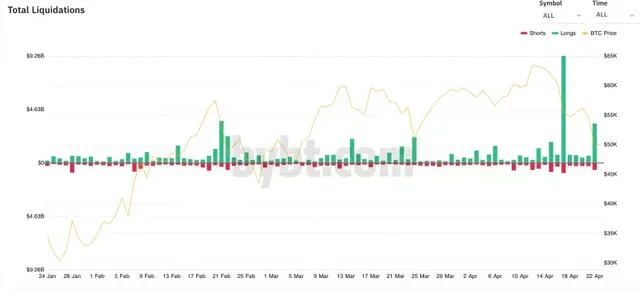 Ether volumes way up in 2021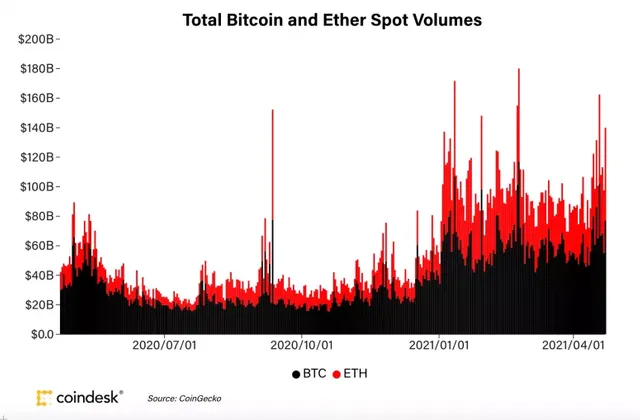 After making double-digit gains while bitcoin was in the dumps this week, ether has fallen with with the rest of crypto and was doing worse than bitcoin Friday in terms of 24-hour price performance.
"ETH usually dumps more," said Stefan Coolican, chief financial officer of investment firm Ether Capital. "Whereas yesterday ETH was the outlier in terms of its strength, today is a more normal sight."
That bullishness could come back. Ether Capital's Coolican termed Friday's bearish-leaning market as temporary after a crazy run-up so far this year.
After a second-week of trading, shares in Coinbase have closed at $293.45. That's a 32% decline from its opening day high of $429.54 on its first day of trading.
Coinbase, the largest US crypto exchange, debuted its COIN stock via direct listing on Nasdaq on April 14 at a price of $381, and quickly found buyers above the $400 mark before closing at $328. After recovering slightly mid-last week, it's been a steady drumbeat downward since—though the rate remains higher than the Nasdaq reference price offered before trading began.
Prior to Coinbase going public last week, analysts had speculated that the price of the exchange's stock would likely be closely linked to the health of the crypto market. Today's action may have proven them right.
Meanwhile, the San Francisco-based exchange yesterday added the controversial "dollar-pegged" stablecoin Tether (USDT) to its pro trading platform. Tether has come under fire within the last few years over various allegations, including that the stablecoin is used to manipulate the price of Bitcoin.
Bitcoin dominance, the metric that measures bitcoin's overall market capitalization against all the other crypto asset valuations has dropped considerably in recent weeks. At the end of February, bitcoin dominance levels started sliding downward from 61% to today's 50%. Meanwhile, from the same point in time ethereum's market capitalization has increased from 11.8% to today's 14.5%.
Bitcoin Dominance Sinks to 50%
Ever since the birth of alternative crypto assets, people have used a metric called bitcoin (BTC) dominance, a measurement that records BTC's entire capitalization against all the market capitalizations held by other coins.
Interestingly, minus a few small dips, BTC's dominance was above the 80% range from the day it was conceived to February 2017.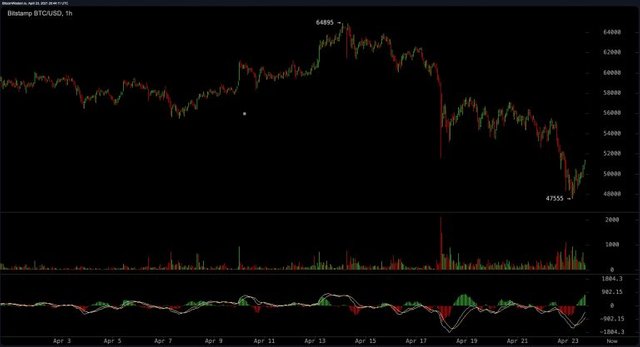 A Myriad of Competitors Push Bitcoin Dominance Levels Lower
Ethereum's market cap is not the only coin eating away at BTC's dominance levels. Binance coin has captured the third position in terms of crypto market valuations and commands 4.33% of the crypto economy's entire $1.87 trillion market cap.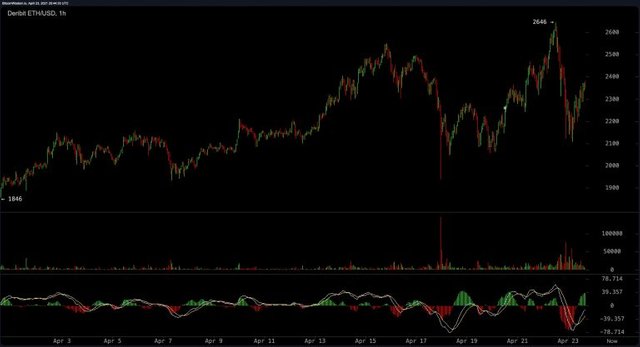 From October 2020 until today, the overall crypto capitalization excluding bitcoin has increased a great deal from $145 billion to close to a trillion. A great number of coins have seen gains alongside BTC's climactic bull run, but a few coins, in general, have eaten a lot more than most.
Aave, Compound, and MakerDAO had a strong Q1.
Q2 is off to an uncertain start, due to falling prices.
Lending deposits on the three biggest Ethereum DeFi platforms hit a record high in the first quarter of 2021.
Aave, Compound, and MakerDAO collectively held more than $25 billion from users, according to a report from data analytics firm Messari.
The quarter also set a record for outstanding loans, as $10 billion in funds from those platforms were redistributed to other users on the platform. Roughly 53% of the loans came from Compound, compared to 30% from MakerDAO and 17% from Aave.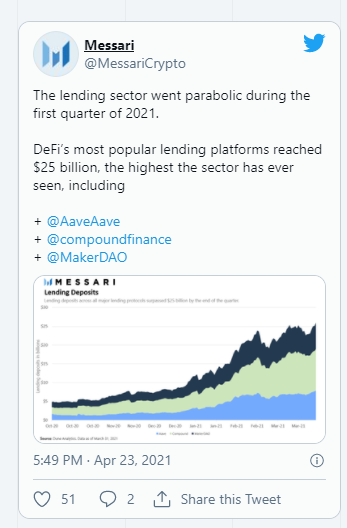 DeFi, short for decentralized finance, is the catch-all term used to describe blockchain-based protocols that cut out traditional middlemen. Instead of a bank approving you for a loan, you can get one via your peers on a DeFi platform. To get a loan on Compound, for instance, you can place Ethereum as collateral and then borrow DAI, an algorithmic stablecoin pegged to the dollar.
🗞 Daily Crypto Calendar, April, 24th💰

"In prep for the Network Upgrade (Week of 4/19/21) learn about SKALE the only live in-production #Ethereum Native, Multi-#blockchain..."
"We'll be able to reveal our first IDO project as soon as next week!"
"Crypto Revolution is pleased to announce next AMA in the group on 24th of April, 12:00 PM UTC Time: Crypto Revolution & BSOV"
"24th of April 2021 - you need to notice this day! $Burst will get a major update..."
"The 'WTF is an NFT?' auction will start at 5PM PDT on April 23rd and end at 5PM PDT on April 24th."


➡️ Youtube
➡️ LBRY
➡️ Twitter
➡️ Hive
➡️ Publish0x
➡️ Den.Social
➡️ Torum
➡️ Spotify
➡️ Be paid daily to browse with Brave Internet Browser
➡️ A secure and easy wallet to use: Atomic Wallet
➡️ Invest and Trade on Binance and get a % of fees back
➡️ Check out my video on Unstoppable Domains and get 10$ off a 40$ domain purchase
➡️ Get 25$ free by ordering a free Visa Card on Crypto.com using this link or using this code qs4ha45pvh
Posted Using LeoFinance Beta