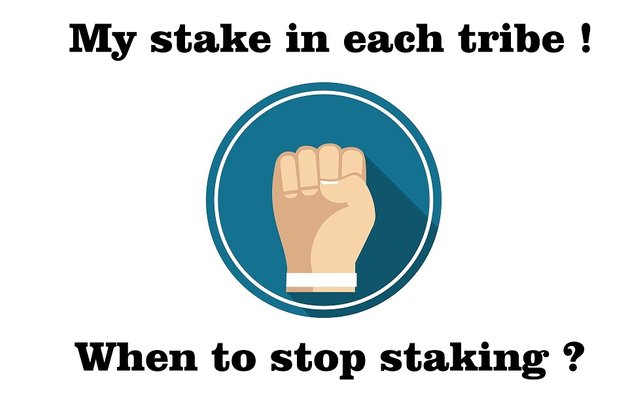 I decided to share all the stake that I have in the tribes now.
I want also to understand, how much I need staked power for each tribe to stop staking.
As I said in my previous post, I decided to stake all my earning in the tribes and I'm doing so now.
I have in sportstalksocial.com 10,000 SPORTS POWER.
In steemleo.com I have 192 LEO POWER.
In palnet.io I have 529 PAL POWER.
In creativecoin.xyz I have 201 CCC POWER.
In intrepreneur.life I have 100 INT POWER.
In neoxian.city I have 56 NEOXIAN POWER.
In reggaesteem.io I have 1082 JAHM POWER.
In dporn.co I have 500 PORN POWER.
Staking is also a kind of investment, so I will share this with #steemleo as well.
I need to understand the opinion of the investors about when it the right moment to stop staking ? Or powering up ?
Or maybe you have a limit that you set for yourself to stake and then stop staking and only curating ?
Talking about steem, the price was always going down during all this time being on it, my upvote was going lower and lower as well. So, about a month ago, I set a limit for myself to have 5000 steem power and not more. Then I started powering down, because I needed money.
But with the tribes, I decided to always stake for some time. But I don't know when is the best time to stop doing so.
For example, in #sportstalk I decided to stake 100,000 sport power and start curating sport's content and see how it will go. I see that the price of the token is stable and I like that, but who knows what will happen tomorrow.
I decided also to not care about the price and just to keep earning to get the amount I staked back. I will see how long it will take me.
When you usually decide to stop staking and what's your strategy with all the tribes that we are having now ?
I would like to know your strategy with steem and steem power as well ?
Maybe I will have a better idea about how to use my steem power and staked power in the tribes correctly.
---
---
You're welcome to join @dcooperation , the community to collaborate.
---
Read the white paper of @dcooperation here : DCooperation's white paper !