Direct from the desk of Dane Williams.
---
With EUR/GBP support finally looking like holding, the pair is now in play to play from the long side.
Click the link in that paragraph above to see the daily zone if you missed it, but the premise was that while above higher time frame support, we were looking for intraday retests of short term resistance turned support to buy off:
Can you see the intraday retests of short term resistance turned support that have already played out this week?

The setups I look for and write about here on LeoFinance are always the same.

I'll let those of you who haven't traded it yet consider what I'm talking about and we'll go over it in tomorrow's blog.
Did you find the level I was talking about?
Here's a EUR/GBP hourly chart with the start of the week marked with the black bracket.
EUR/GBP Hourly: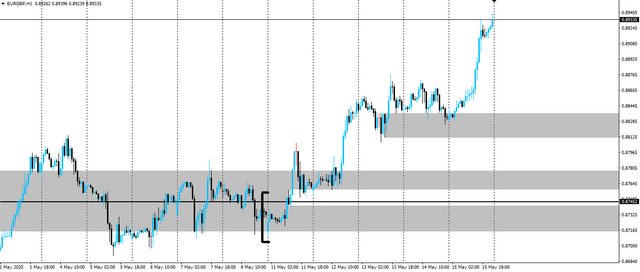 So the main box is the higher time frame zone that you can see price had held in order for us to look for longs.
On Monday you can see price printed short term resistance and retested it as support for a beautiful entry.
That was the setup that I was referring to in the quote from yesterday's blog above, but I've also included another short term area of resistance that price retested as support on Friday.
You can see after retesting the zone, price continued to rip higher, once again with minimal drawdown on the entry.
Using these short term zones in the same direction as your higher time frame zone is an excellent way to manage your risk and often give entries like these that allow for huge risk:reward trades.
Best of probabilities to you,
Dane.
---
FOREX BROKR | Hive Blog
Higher time frame market analysis.

Posted Using LeoFinance