Wrapped LEO is Now LIVE! | How to Wrap, Swap and Add Liquidity
---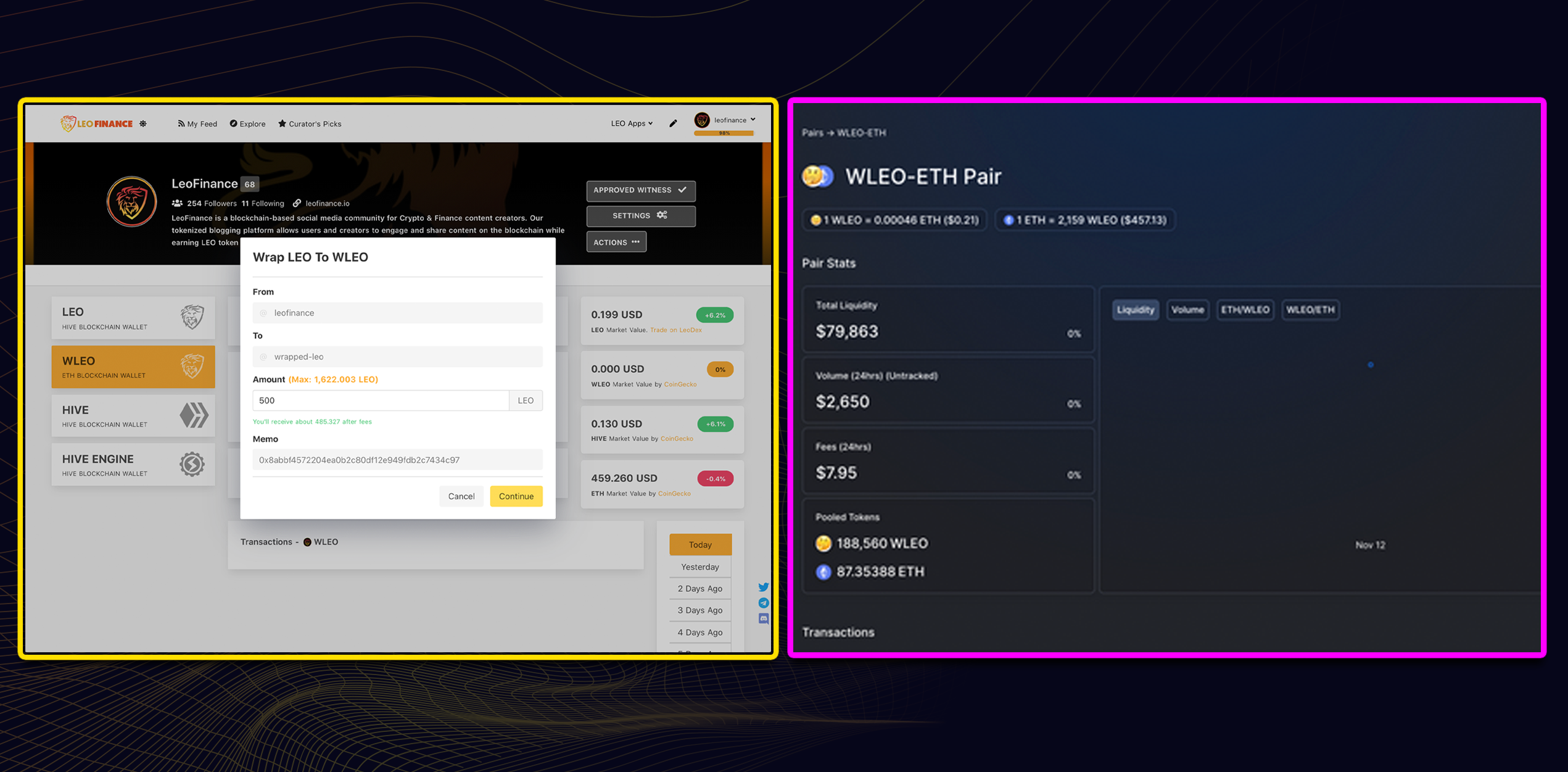 Wrapped LEO (WLEO) is now live (again)! Here's a quick guide/reminder to show you how to wrap LEO into WLEO, swap in the pool and add liquidity.
We just recorded a WLEO Roundtable Launch Party. This episode will show all of the key actions in real-time as we walked through the wrapping and adding liquidity process and will be posted on the @khaleelkazi account today.
Important updates since last time (in terms of Liquidity Providing/Wrapping):
New UI
Geyser LP Incentives
We've deployed the interface update for WLEO that was highly anticipated 1 month ago before the attack. This update is now live on https://leofinance.io and allows you to interact with WLEO like never before.
Now you can head over to your wallet page: https://leofinance.io/@leofinance/wallet and interact with WLEO directly on our primary app in addition to the original Wrapped LEO interface.
Important Links:
Uniswap Visual Data is Delayed
Uniswap is having some visual data issues this morning. The blocks do seem to be catching up fast and Uniswap is only about 45 minutes behind as of this writing. Hopefully it will catch up by the end of day today. You can see the pool now on Uniswap but keep in mind that it is delayed by about 45 minutes. So if you add liquidity or swap, you won't see the TX on their front end - however, you will see the TX on Etherscan.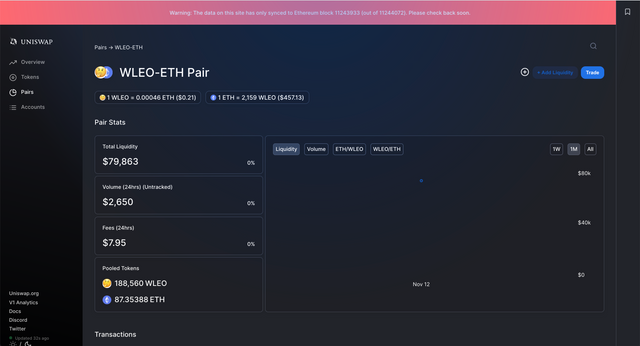 The visual data should update shortly. You can still do every action - swap or add liquidity - but it won't show directly on the UI right away. If you want to wait for the display issues to catch up (likely by the end of today), then you can just wait to interact with the WLEO Uniswap pair until the red banner at the top of Uniswap is gone.
How to Bind Your ETH and Hive Addresses Using LeoInfra:
Binding your ETH and Hive addresses will allow you to interact with WLEO on https://leofinance.io. By binding your account, you'll unlock a whole new set of cross-chain features to seamlessly work back and forth between the Ethereum blockchain and the Hive blockchain.
To bind, just head over to your wallet page on https://leofinance.io and hit the "Connect With Metamask" button: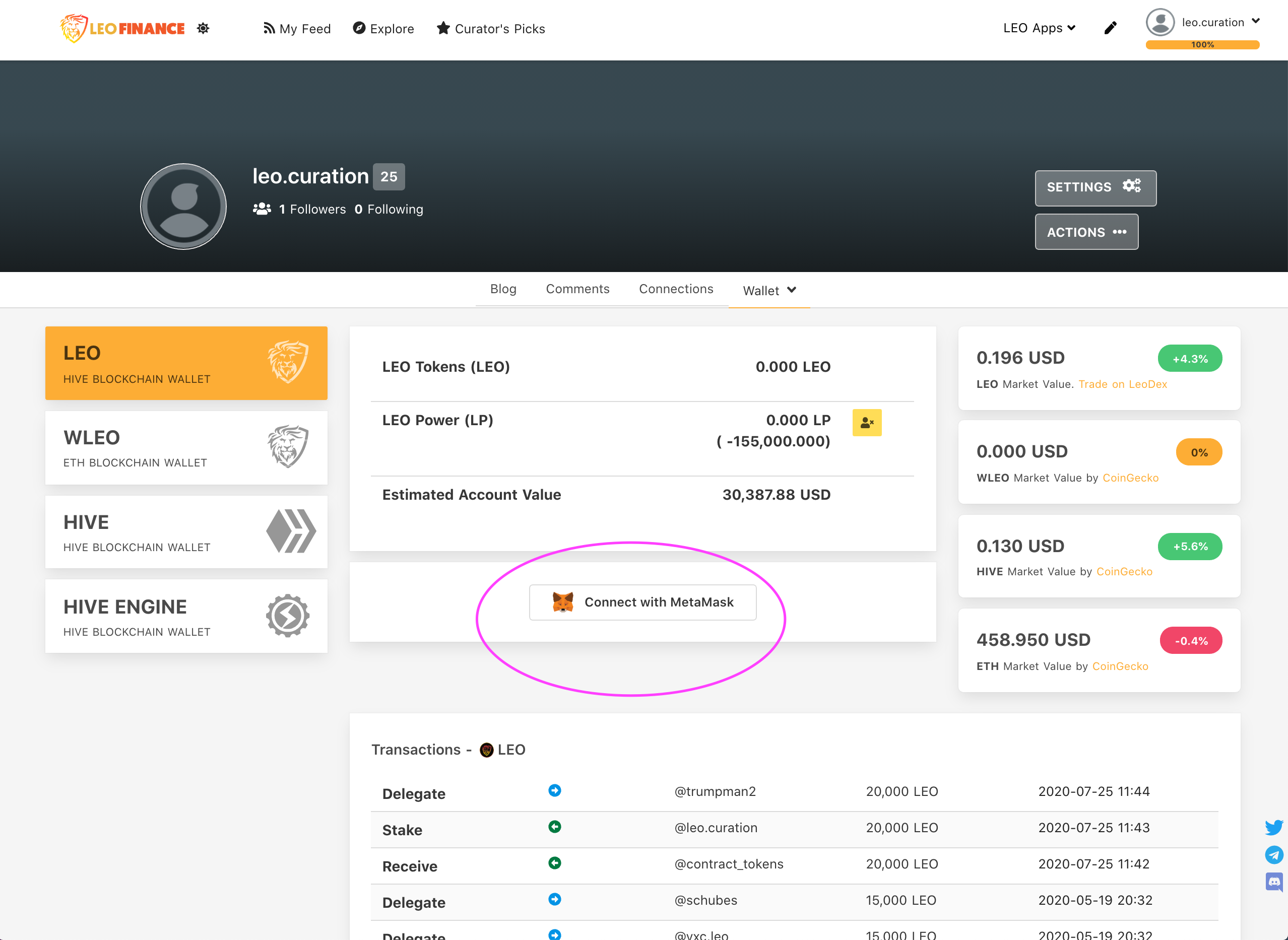 Metamask will then prompt you to sign a text message to confirm that you own the ETH address you're trying to bind. After that, a Hive message will pop up to broadcast a custom JSON (this JSON confirms your ownership of the Hive account and binds the two on the Hive blockchain).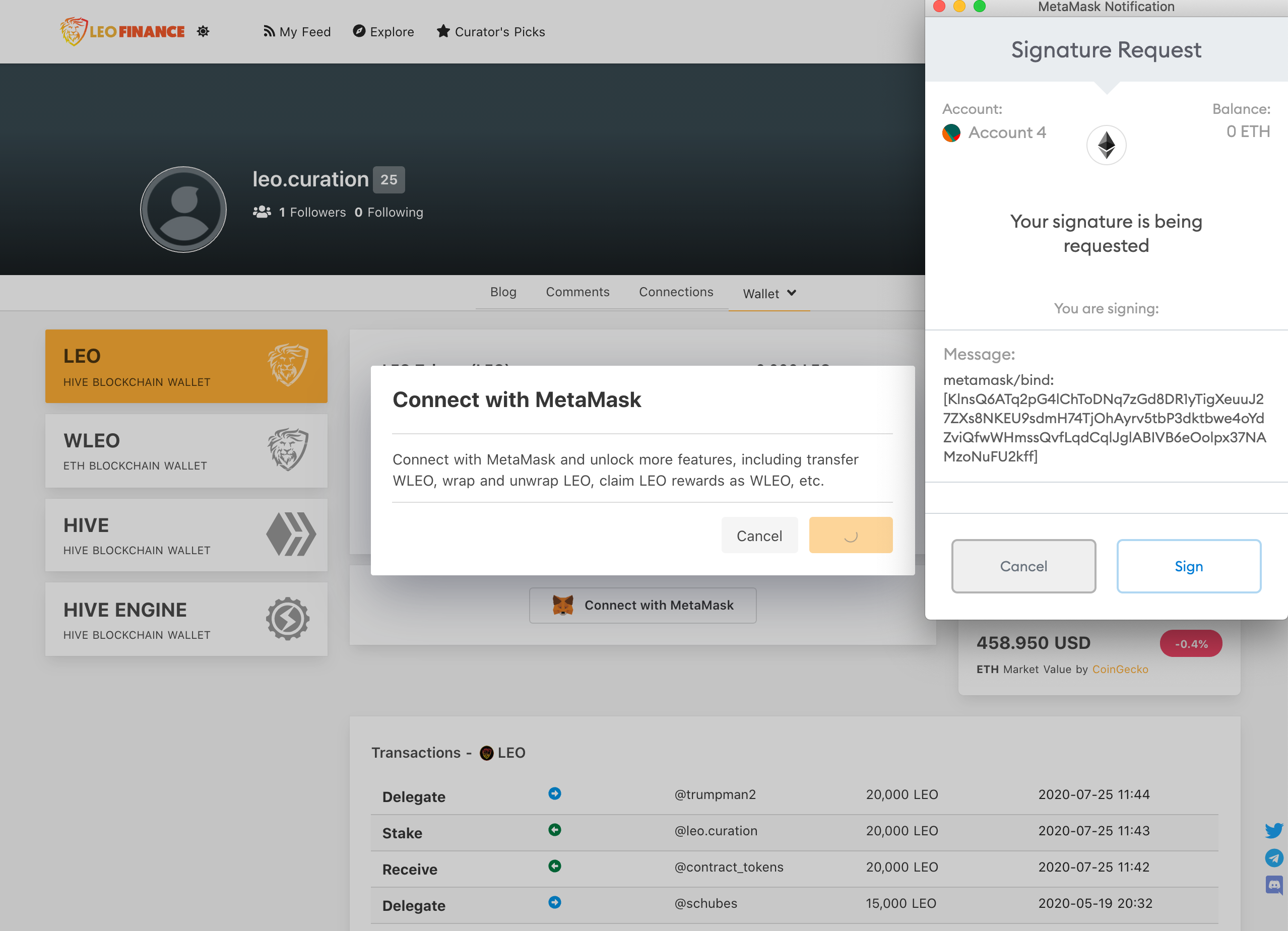 Once you've bound your ETH address, you'll see all of the new features that are available to cross-chain enabled Hive accounts!
How to Wrap LEO Into WLEO
To wrap LEO into WLEO, just head over to your wallet page and hit the wrap button: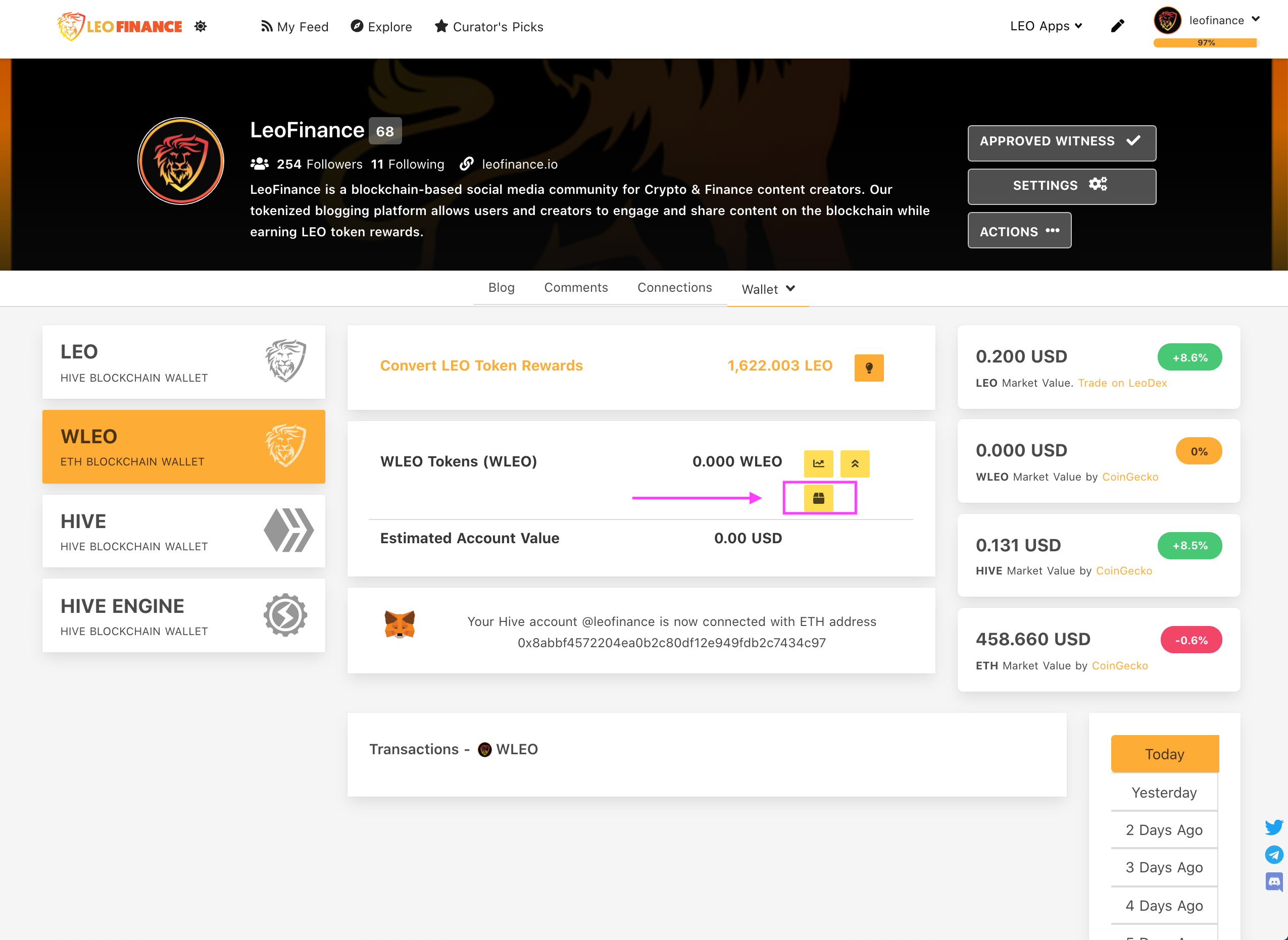 After clicking wrap, you'll see the following dialog: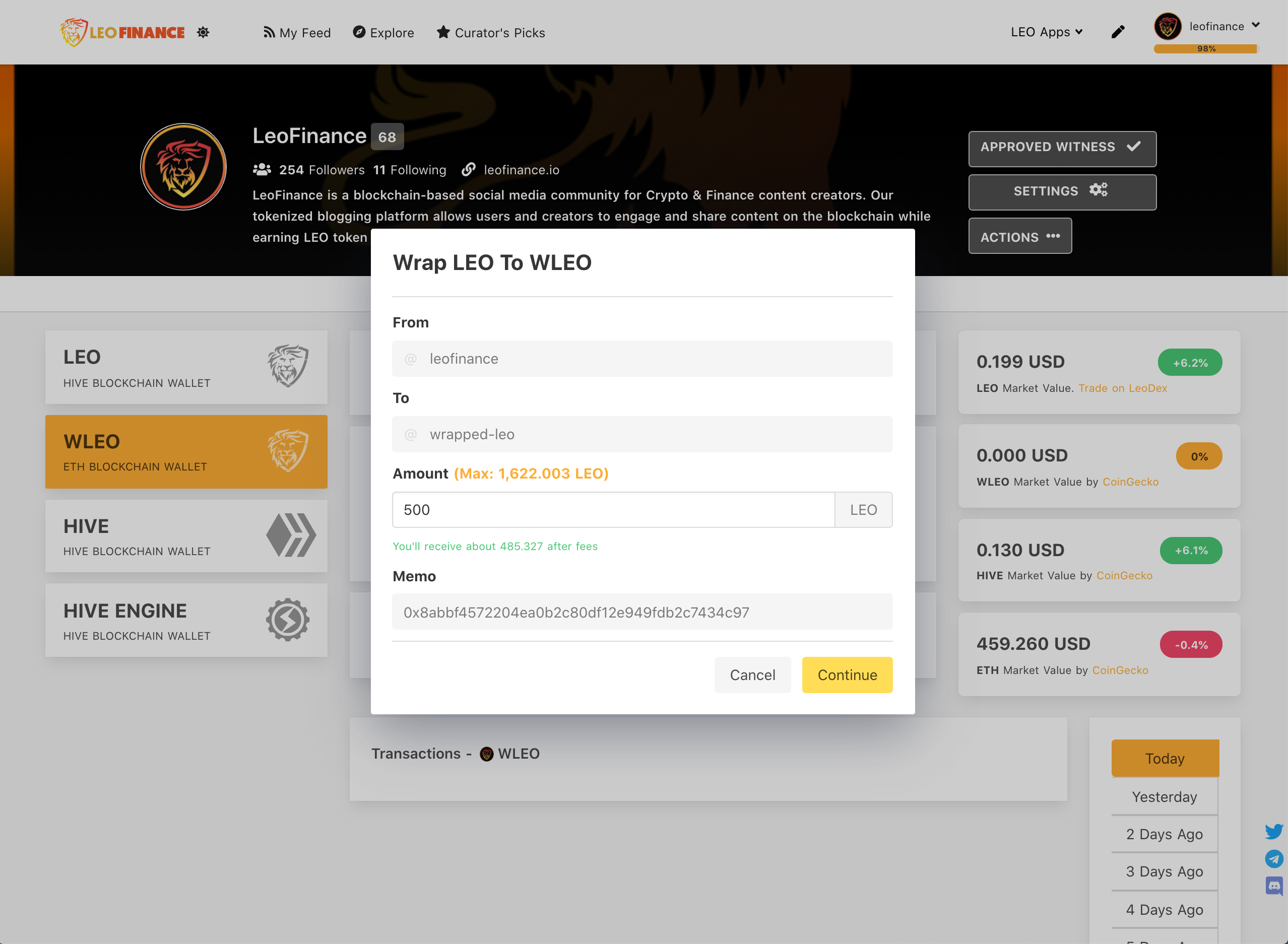 It's already prefilled with your ETH address in the memo field (this utilizes LeoInfra HIVE-ETH binding). Just enter the amount you want to wrap and hit "Continue" to receive your WLEO on Ethereum.
Note: if you ever lose access to the ETH address that your Hive account is bound to, then don't wrap LEO into it! If you no longer hold the keys to that ETH account, then you won't have access to any assets in it. General key management practices apply.
Once you've hit continue, you'll see the WLEOs enter your ETH address within a few seconds/minutes.
To unwrap WLEO, just hit the unwrap button and then follow the same steps. It's already prefilled with all of your Hive/ETH information. Just enter the "Amount" you want to unwrap and hit continue.
Alternatively, you can wrap/unwrap LEO and WLEO using https://wleo.io. Here's a guide on that.
Another note: for security, this WLEO unwrapping system works differently than the other one. Do not send WLEO directly to any address if you intention is to unwrap the WLEOs into LEO. You must interact with either https://leofinance.io or https://wleo.io directly in order to unwrap your WLEOs into LEO. Sending it manually to the cold wallet or contract address will result in a loss of WLEOs.
How to Provide Liquidity
We've talked about this numerous times for the past WLEO launch. You can view all of the guides we made on https://leopedia.io/wleo. Here's a quick refresher on providing liquidity and swapping:
Go to https://wleo.io/uniswap
Click "Add Liquidity" in the top right.

Then enter the amount of WLEO + ETH you want to provide. Remember that you need to provide an equivalent amount of WLEO and ETH in terms of USD value (50 - 50 ratio).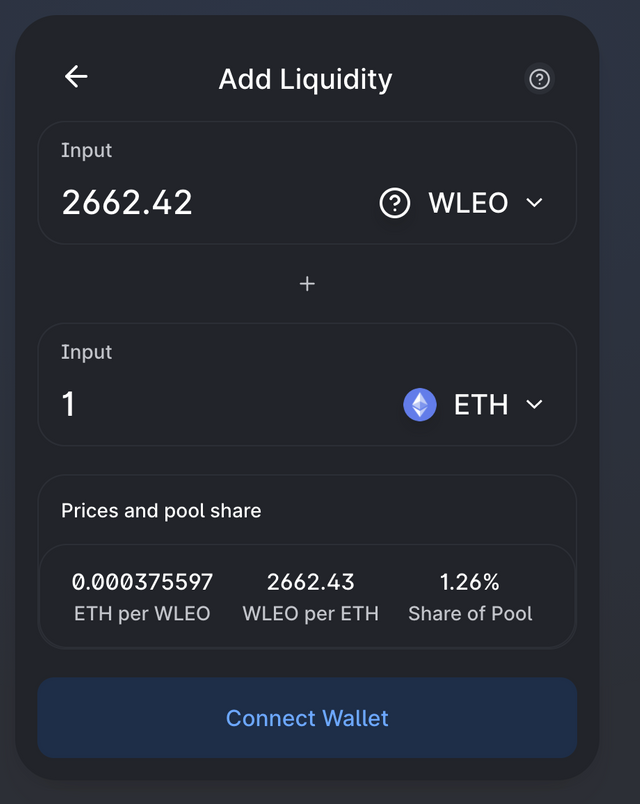 Connect your wallet, then click "Approve" to approve the WLEO contract.
Once you've approved, then you can hit "Supply" and send your ETH + WLEO to the pool. Congrats! You're now a liquidity provider and you'll earn market maker fees and geyser LP rewards.
How to Swap ETH and WLEO
To swap in the pool, head over to https://wleo.io/uniswap.
Then click "Trade"

Then enter the amount of ETH (or WLEO) you want to swap. Swapping into WLEO from ETH is the same thing as selling ETH in exchange for WLEO. The reverse is also true: swapping from WLEO into ETH is selling WLEOs in exchange for ETH.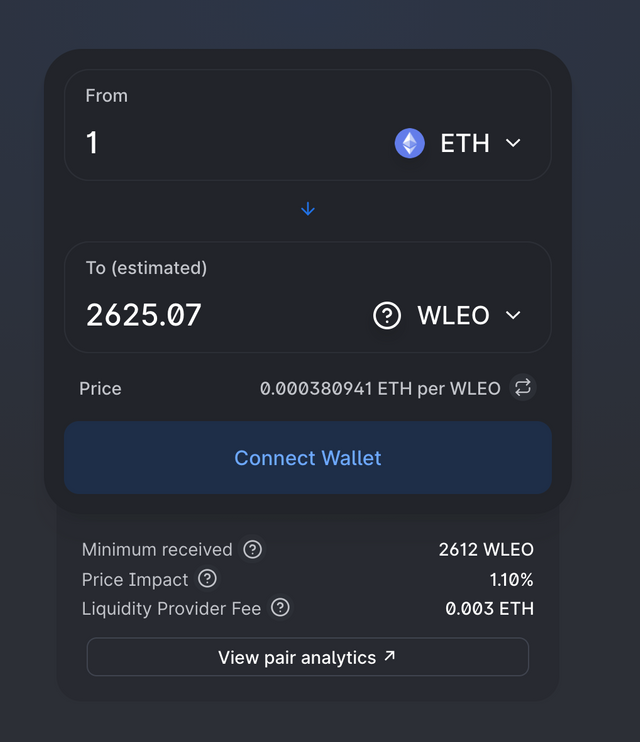 As the total pool liquidity deepens, the "Price Impact" % gets smaller. Deeper liquidity makes it easier and more attractive for traders to enter/exit WLEO.
---
Video Guides Dropping All-Day Today!
We're going to pump out a lot of videos today to explain everything. The backend of WLEO is much different but the surface level UI stuff is all very similar to the first version of WLEO.
Wrap, Swap and Add Liquidity. We'll have new guides dropping continuously for the next several days to explain everything in real-time. Most users respond well to our videos, so we'll make sure to do a healthy mix of written + video guides. Also feel free to jump in Discord and ask questions if you're stuck on any particular part.
If you're an experienced LeoFinance/Uniswap user, we encourage you to write your own guides, thoughts and experience using the WLEO token and Uniswap pair. Community-based guides will go a long way in helping as many users as possible and the Curation Team will keep an eye out for various guides on the WLEO token for extra rewards.
First Geyser Snapshot is in 48 Hours
Due to the ETH network congestion, we've decided to start the Geyser snapshots 2 days from today. That means that on November 14th, 10 AM CST, the first day of Geyser snapshots will occur.
This evens the playing field and allows liquidity providers an extra day to get in the pool. The ETH network issues have caused data display errors on Uniswap and higher gas fees. Over the next 48 hours, we think all of these issues will be solved and you'll be able to easily add liquidity without paying a hefty gas fee. We don't want to give the advantage only to big providers who don't mind paying a few $ in extra fees, so we're happy to extend the day 1 snapshot window to allow everyone a fair shot at the first Geyser snapshot.
Remember: the earlier you provide liquidity and the longer you leave it in the pool, the higher your rewards.
In the infamous words of @nealmcspadden: "Pool early, pool often"

LeoFinance is a blockchain-based social media community for Crypto & Finance content creators. Our tokenized app allows users and creators to engage and share content on the blockchain while earning cryptocurrency rewards.
Follow @leofinance for official updates
Posted Using LeoFinance Beta
---