RUNE/USDT Pool - Day 10
---
Day 10 on my liquidity providing journey is here. On average, I have earned $3.6 per day with an initial investment of $293 (RUNE + USDT). It is also $ 3.75 more than I would have if I just held RUNE in my wallet. And even if it's just a little over 1 percent higher than if I was hodling RUNE, I'm still happy to have started this journey.
I'm also excited about the future of Thorchain and how it will develop. The potential is huge!
In the first screenshot, you can see that the total value has increased by 12.37%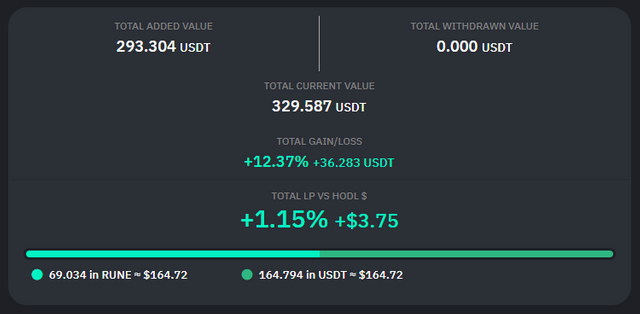 As you can see in the second screenshot, I've lost more than 12 RUNE. On both screens you can also see the total LP percent vs HODL and it's +1.15%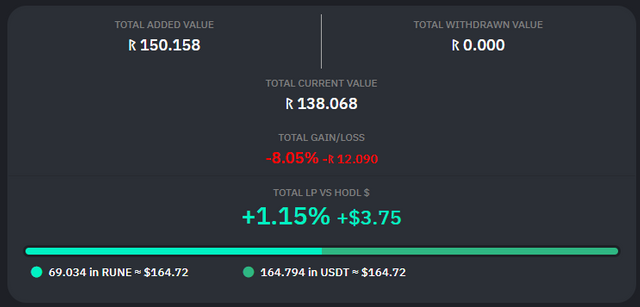 In the total overview, you can see almost the same information + the LP vs HODL APY which is 51.86% and it's awesome!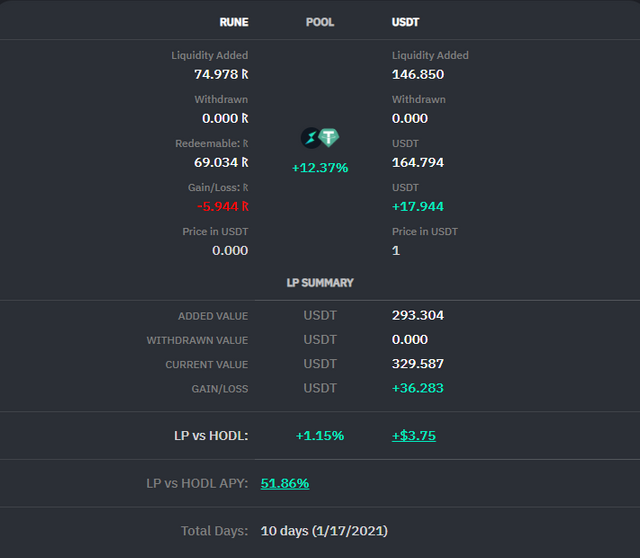 We'll see what happens in the next coming months but from what I've heard on the internet, there are great times for Thorchain and RUNE coming pretty soon. Just check out their new homepage. It looks delicious! I'm in this journey for at least a month! We'll see what happens next. I will publish the next update when it's day 14.
Thank you for reading and following this journey!
Here's my guide on how to add liquidity on Chaosnet and become a liquidity provider.
Read about more incredible stuff:
Social Media Platform that Connects Blockchain People and Projects Together - Torum Review
Must Read - 33 Reasons Why You Should Be Using HIVE Blockchain!
Crypto Faucets That Really Pay - Browse Here
SwissBorg Lottery With a Guaranteed Bitcoin Prize - Look Here
---
Or press on the banner below and browse boi's website.

Posted Using LeoFinance Beta
---