Which HIVE Game Did I Miss?
---
Today, I updated the gaming section of my website and added all the HIVE games that I know. Personally, I'm not playing all of them because then I would have no time for other things, writing my blog, for example. But some of them, I'm playing from time to time when I have no energy to produce new content. Maybe I should do videos of playing these games and put them on 3speak? Maybe.
Now, when you visit www.bagofincome.com/gaming, you will see this list of HIVE blockchain games. And yeah, my invitation links for the games that have a referral system. Imagine if a crypto millionaire reads my blog and uses the link? That would probably get me some nice benefits.
What do you think? Have I missed a game? What about yourself? Are playing some of these games? You know you can earn crypto with them, right?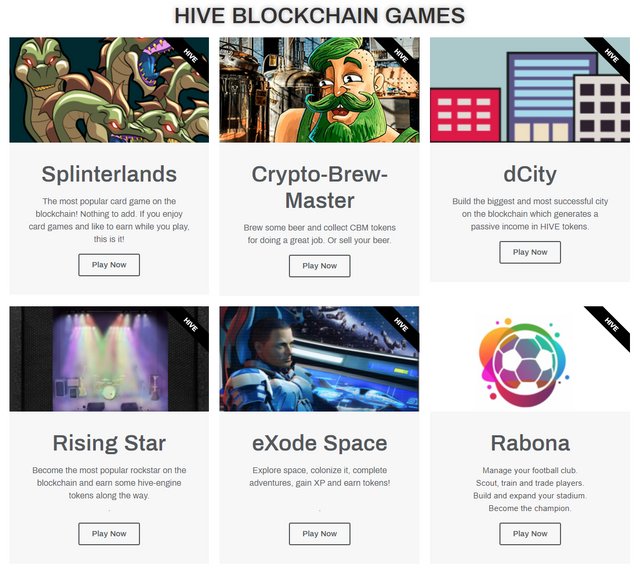 In addition to HIVE blockchain games, I added some other games that I have played. All of them can be used for fun but also, to make additional gains in crypto. Do you know that there are game NFT's worth millions? Yeah! Imagine owning one!
What do you think of the page? In the future, I want to add reviews to each of these games but it will take some time and as I previously mentioned, video reviews would probably work better than simple images and text. I think I can do both when I'll finally start but for now -
Thank you for reading!
Read about more incredible stuff:
Social Media Platform that Connects Blockchain People and Projects Together - Torum Review
Crypto Faucets That Really Pay - Browse Here
SwissBorg Lottery With a Guaranteed Bitcoin Prize - Look Here
---
Or press on the banner below and browse boi's website.

Posted Using LeoFinance Beta
Posted Using LeoFinance Beta
---