GLX token continues to impress
---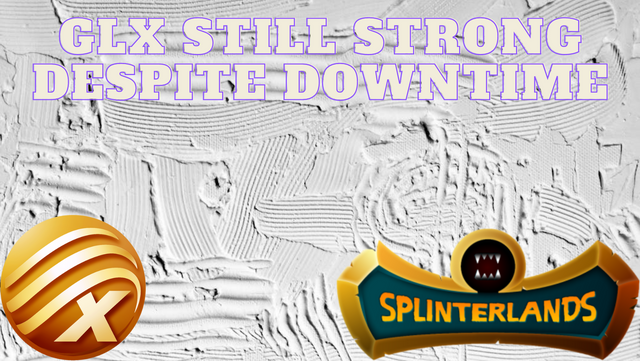 Last night, I finally claimed the GLX token that I was farming for like 24 hours and fair to say, it was worth the wait. I ended up with a small fortune of tokens that I promptly converted to Hive because I thought there was going to be a rush to dump.
I figured that the price of GLX didn't drop as dramatically as I expected because the word wasn't out yet about claims. However, I woke up this morning to see the token still trading above 20 cents and I have to admit that I am really impressed.
I actually thought that the situation with Splinterlands and the fact that Claims were halted for 24 hours would spook investors. Alas, the price did drop but not as significantly as you'd expect, with all things considered.
In fact, from all indications, it looks like more GLX tokens ended up being staked when claims and staking got reinstated. This is quite the situation, I must say and one that is extremely impressive.
How long though?
I'm not holding, to be honest. I'm just taking it one day at a time, squeezing out value and watching the numbers.
Frankly speaking, I feel like the price of GLX could swing in any direction and the move will be justified. Obviously, if it swings to the right and starts pumping again, that would be awesome but a swing in the other direction will be understandable.
GLX token has a market cap that surpasses $360m and while that is pretty on paper, it is clearly unsustainable. It is hard to see where the pump will come from but crazier things have happened in crypto.
I keep looking at the numbers in the page and struggle to make any sense of it. First of all, it says that there are like 1.55 billion tokens are liquid and my question is, where? Where did all these mystery tokens come from? Surely, they couldn't have come from staking rewards, right?
There's just so much about the tokenomics that goes over my head. Perhaps the investors that are contributing to the over $84k of trading volume on Hive-engine know more than I do.
Anyway, my game plan hasn't changed for GLX token, despite the current market value. I don't think the current price is sustainable and I hope I'm wrong.
Assuming I'm not wrong and the price of GLX drops as dramatically as I suspect, I'm going to simply buy the dip and stake as much as 20K GLX tokens. For my sake, I hope I'm wrong and I continue earning my daily bread from a random $48 investment that I did on a whim.

Posted Using LeoFinance Beta
---