Don't be the showboater
---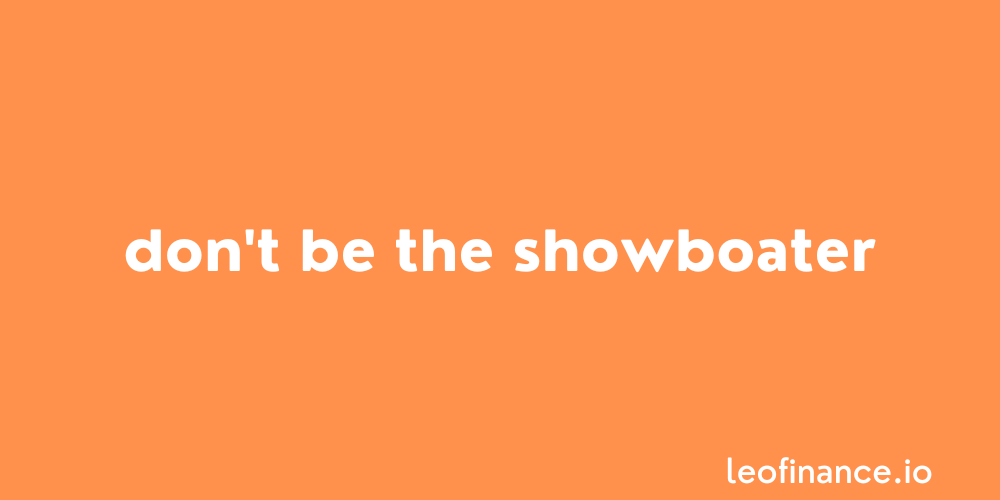 Direct from the desk of Dane Williams.
---
Drawing parallels between the personalities found in my football team and those making money right here on Hive.
Something you might not know about me is that in my spare time, I coach a football team.
While I love the tactical side of management, the biggest aspect of the job revolves around man management.
Meaning figuring out how to keep all the different personality types happy and motivated enough to win football matches as a team.
Let me share my thoughts about two particular lads in the team and how their personality traits translate directly to those who make up the LeoFinance community here on Hive.
By grasping the analogy, you will hopefully be able to identify which personality type you are and which will ultimately make more money blogging on Hive.
Personality type 1: The selfish showboater
The first of the young lads in my team is an extremely technical, individually skilful player.
I'm talking about the way he can skin a defender with a step over, receive a pass with a back-heel and shoot a ball with viscous dip.
He has the latest release Nike football boots and warms up in a different club's brand spanking new replica kit each week.
Individually, he is head and shoulders above his peers as the best and most knowledgeable player in the team.
He's there to look good.
Something he does very, VERY well.
The kid is head and shoulders above when it comes to being the best player on the team.
But…
Does he add maximum value where it really matters by helping the team to win football matches?
No.
He shows up to training once every 3 weeks (if we're lucky) and gets skinned 9 times out of 10 when the team needs him to take responsibility and step up.
As the coach, I just can't trust him.
Personality type 2: The selfless club man
Meanwhile, there's a second lad in the group who certainly doesn't give a fuck how he's dressed, let alone what trick shots he can do.
He shows up to training every single week and constantly asks questions on how he could have played different in-game scenarios just that little bit better.
The lad is hungry for the type of success that matters - Success as a team.
EVERYTHING he does is for the betterment of the team and it shows in how the rest of the group perceives him.
When the team needs someone to take responsibility and step up in those same high-pressure situations, do you know who we all want to be there?
It's a no brainer.
The rest of the lads know they can rely on him because he shows up and gets shit done.
I would trust the lad with my life and I'm not even talking about in a football sense anymore!
Which personality type will make more money blogging on Hive?
When it comes to blogging on Hive, we see our community made up of these exact two personality types found in my football side.
The technically gifted showboaters who have all the intellectual tools at their disposal to create the type of golden content that gets a Web3 blogger paid.
They should be making BANK.
But if they are here for themselves, not showing up every day to actually add value to the community as a whole, then why would those with stake reward them?
And they don't.
We see it every day with people complaining about not getting what they deserve to be paid on a post.
Their content is usually top quality.
But they're here to leech maximum value for themselves, not provide value to the community as a whole.
Their behaviour is akin to doing virtual step overs on the way to the best individual goal of the game…
…but ultimately losing 3-1 because you don't want to defend.
Useless where it really matters so therefore not worth the time, attention and salary they're paid.
The bottom line is that if you want to make money blogging on Hive, don't be the showboater who knows it all and contributes nothing to the team.
Be the selfless club man who shows up every day, grinds his arse off and ultimately adds as much value to the community as he extracts in payments.
This is how you make money on Hive.
Best of probabilities to you.
Posted Using LeoFinance Beta
---