Splinterlands - My SPS & GLX Daily Rewards - How much dollars do I get daily?
---
Hey All,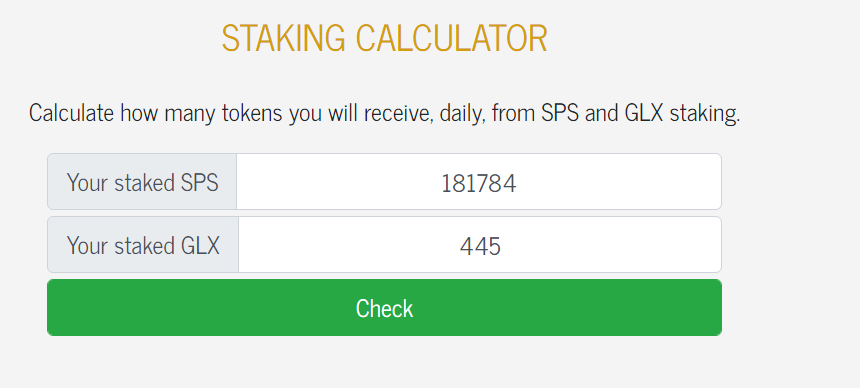 We have a website named Splintercards where players or investors can come to know about their daily earnings rewards in the form of $SPS and $GLX along with the APR percentages. As seen from the above image you need to enter in two values :: No.1 Staked SPS and No.2 Staked GLX and then click to see the associated magic numbers tied to your earnings. Here is the snapshot of my latest $SPS staked.
Total $SPS Staked 181K+... & Counting...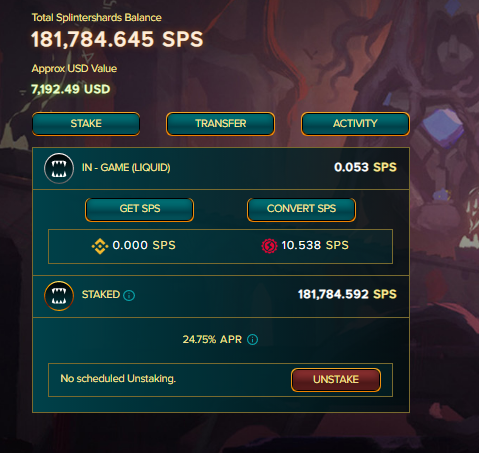 Slowly and steadily getting there to having 200K+ SPS staked by the end of this year, 2022. Currently, all my $SPS rewards may it be tied to Staking, HOLDing Assets, Liquidity Pool rewards all are being redirected back to staking $SPS. One of the major reason to increase of my $SPS stake is its all time low trading price. I did swap most of my $GLX rewards earlier when it was trading high with $SPS - Sold GLX for HIVE & Plans to Buy $SPS... This swap of $GLX for $SPS did help me to get extra 3k+ $SPS being redirected to the staking pool.. happy doing this swap. Now when the price of $GLX did stabilize, I did change my strategy to stake $GLX now - My Strategy for $GLX. Currently, all my $GLX rewards is being directed to the staking pool & here is the current status of total no. of $GLX staked...
Total $GLX Staked...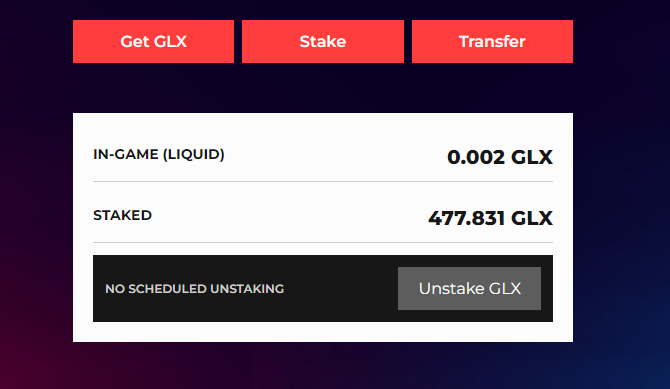 The plan for $GLX now is to get to a point of having 5K+ $GLX staked now. Which would mean that all my daily Airdrop of $GLX would be staked and if the price of $GLX falls even further then I would be looking for an opportunity of buying $GLX in bulk. Now that we have some context to my $SPS and $GLX staking numbers, lets have a look at my daily earnings in terms of dollars amount...
Daily Earnings - $SPS & $GLX - $15+...

Based on the above image, I am making close to $14+ for my 181K+ SPS staked this is over all an 73% APR approximately; considering the trading price of all the tokens i.e. $SPS, $GLX and $VOUCHER. Now coming to the $GLX staking rewards where the current APR is above 1000+% I am getting 12+ $GLX rewards daily and this attributes to another $1+ daily rewards. Not a bad deal at all when you get close to $15+ daily as a passive income where you have your favorite tokens earnings for you and you need not do anything but just some clicks of button to claim the reawards... Simply wow... :-)
Finally, there are no plans of unstaking but rather would continue to enhance my stake in $SPS and $GLX reward pools. No more selling of $GLX token now, don't seem to be a wise move to sell at all time lows. Rather will wait for the right opportunity until then will continue to stake and just stake and keep building up my portfolio for both these tokens i.e. $SPS and $GLX and try to get to my associated magic figures for both the tokens. $SPS staked GOAL of 200K+ and $GLX staked GOAL of 5K+...
My SPS & GLX Daily Rewards
#GLX #Airdrop #rewards #Splinterlands #SPS #Stake
Image Credits:: splinterlands, splintercards, genesisleaguesports,
Best Regards

Posted Using LeoFinance Beta
---