Keywords, Top Pages & Content Ideas For LeoFinance #2
---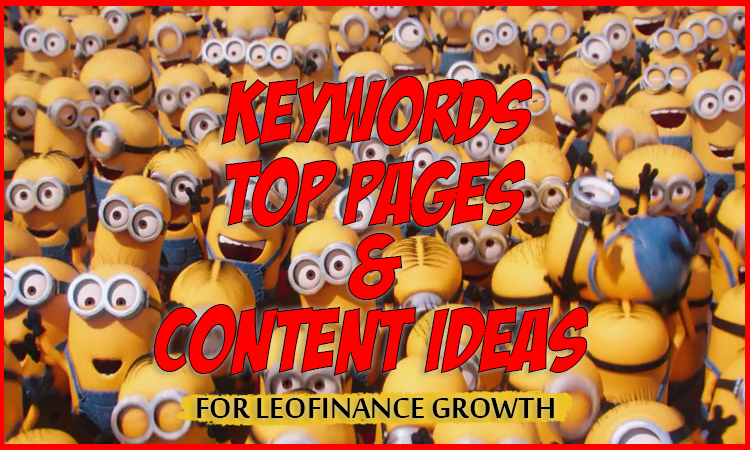 ---
All of us know that both Axie Infinity and Splinterlands is driving tons of traffic to LeoFinance and I published an article just recently about how we get "1000 Page Views Per Week On Splinterlands Content From The Philippines". It's safe to say that LeoFinance (and Hive in general for that matter) benefits greatly by Splinterlands & Axie-related content.
That's the whole reason for my previous post with "content ideas & keywords". I wanted to make things easier for content creators who's eager to dip their toes into play-to-earn-related content.
A couple of weeks ago, in one of my other posts, @amphlux and @forexbrokr talked about how Splinterlands targets players of the gamestyle called "TCGs" or Trading Card Games.
I was asked to do some more detailed keyword research to let others know where the search volume is and I got some suggestions as well:
I have looked into all of these, and I have also looked at games similar to Axie Infinity & Splinterlands. On top of that, I also looked at a couple of "underrated NFT games", and I decided to share all the details. As this will be a huuuuuge list of keywords & content ideas, I figured I would do things the same way as I did with my previous post. I will give you links to spreadsheets so you can take a look for yourselves, instead of including them in this specific post.
Each of the links above takes you directly to a spreadsheet with details.
Next we have the keywords & content ideas for the "Top Underrated NFT Games for Better ROI" article by techtimes.com.
They have a list of 6 different games. One of them is Splinterlands so I will obviously exclude that from this list as we already have spreadsheets for this from before.
This is what they say about these games:
'League of Kingdoms'
This NFT game is a bit like "Clash of Clans" where players can build their kingdoms, upgrade them, and battle opposing kingdoms. This is a good semi-casual NFT game for players that do not want to spend too much time actively playing.
'Lost Relics'
This action-adventure RPG NFT game is more immersive than others as players are able to go through an actual storyline, develop their characters, and battle enemies.
'Zed Run'
This digital horse race NFT game lets players bet on the potential winning horse. The good thing about this game is the chances of winning horses still depend on the horses' breed, their DNA, and of course their performance.
'Nine Chronicles'
This RPG NFT game offers players multiple options to earn. Players can battle, or even mine, in order to earn more with their characters within the game.
I don't have any personal experience with any of these games and my knowledge is very limited, however, I felt the need to include content ideas and keywords for these as well, as they seem to go well in line with the topic of this post. Each title takes you to a spreadsheet for that specific game.
In my previous post where @amphlux and @forexbrokr talked about various keywords and trading card games another list of things came up: Each title takes you to a spreadsheet this time as well.
All of these keywords & suggestions are taken from Ubersuggest.
Posted Using LeoFinance Beta
---