How to make use of $HIVE and $HBD in 2022 the usecase of crypto in real life – a proposal for an experiment the hive "yellow pages"
---
The Leofinance crypto and DEFI ecosystem with all its various tokens is vast. The decentralized web3 environment we spend our digital lifes in has many things to be explored. You can play to earn crypto every day, you can use these earnings to further compound them and make your crypto work for you. You can spend your $SPS to purchase credits and than buy card packs, but can you go to a pub and say:
Hey there! I would like to buy a round of Beer for me and my friends over there, how much $HBD for a bottle?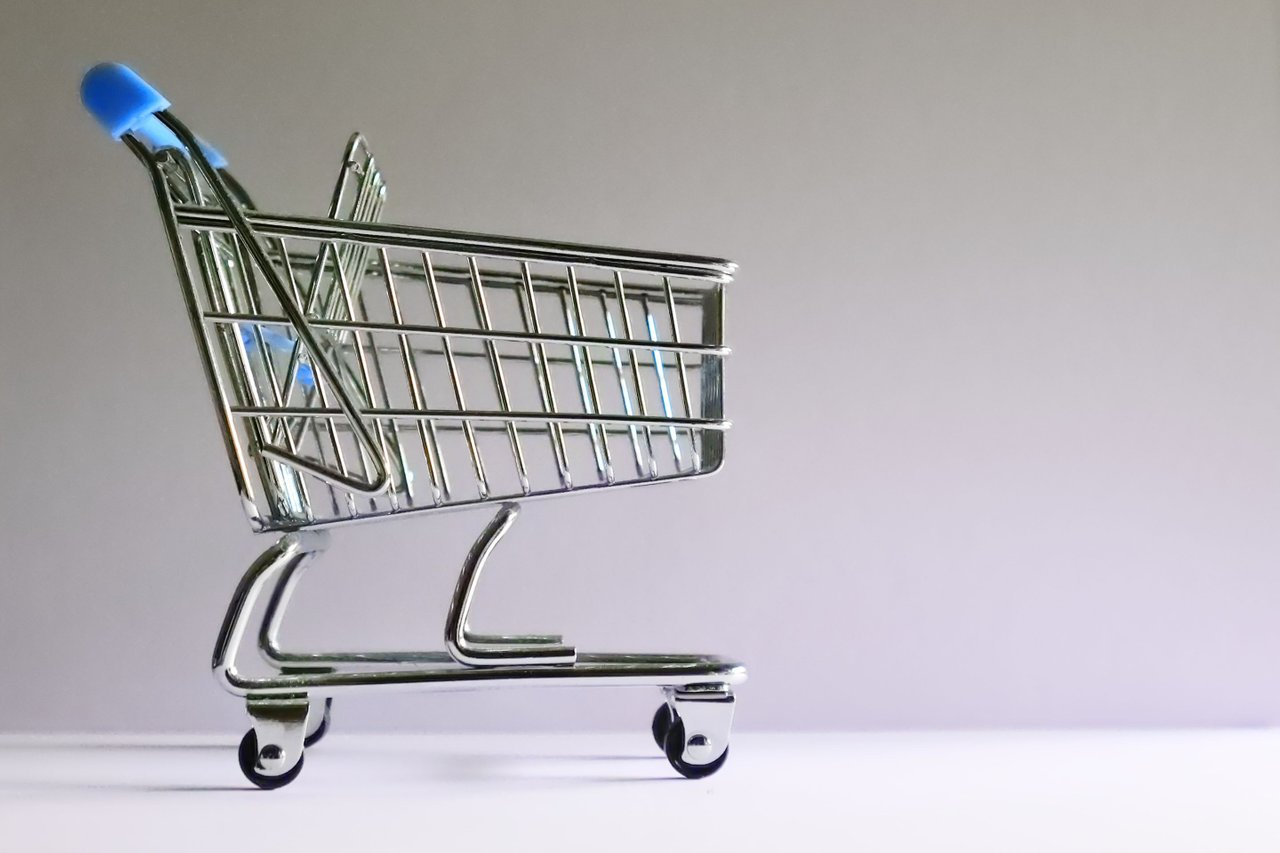 source image by @iodacasamia in @hive-118554
Yes I sometimes drink beer out of the bottle, but today is about how we can have real life use cases for our hard earned crypto rewards and especially of course our very own algorithmic stable coin HBD.
This is sort of an open project and thought experiment and I talked about it in a previous post but I want to go a little further and take it to an even broader level. If you have not read it I strongly recommend to go there and check it out. You can do so by clicking on the #MEME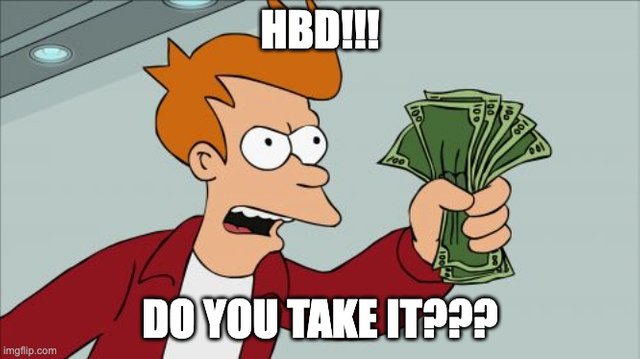 imgflip.com
source
Depending on where you live, 1 HBD, should it be accepted, can buy you different things. If I pay with 1HBD today in my local supermarket just across the street I will get a small piece of cheese, or a small bag of onions maybe 500g. I could also get one bottle of beer for it and would get 0,19 HBD back. On other parts of the globe it could be something totally different. I am sure there is a lot of places where you still get a bunch of stuff for 1 HBD.
But that is completely irrelevant to what I wan't to say:
We all have Hiveans around us. Those Hiveans that are in your local surroundings will aready be aware of the concept of our stable magic internet money.
What I would like to see from us as a community around the world would be a list of users (you can stay anonymous here) who would accept HBD for whatever they are offering. The thing has to be in real life though as an example let me show you what I mean.
My friend is a civilian pilot which means he can not take you on a flight and you pay him for the services. But he is allowed to share the costs of the flight. Flying with a small Cessna as a hobby is really expensive. We went for a small round the other day and the plane has 4 seats and one of these is taken by the pilot who has to pay the same amount as any passanger. He paid 300 € at the end of our little journey.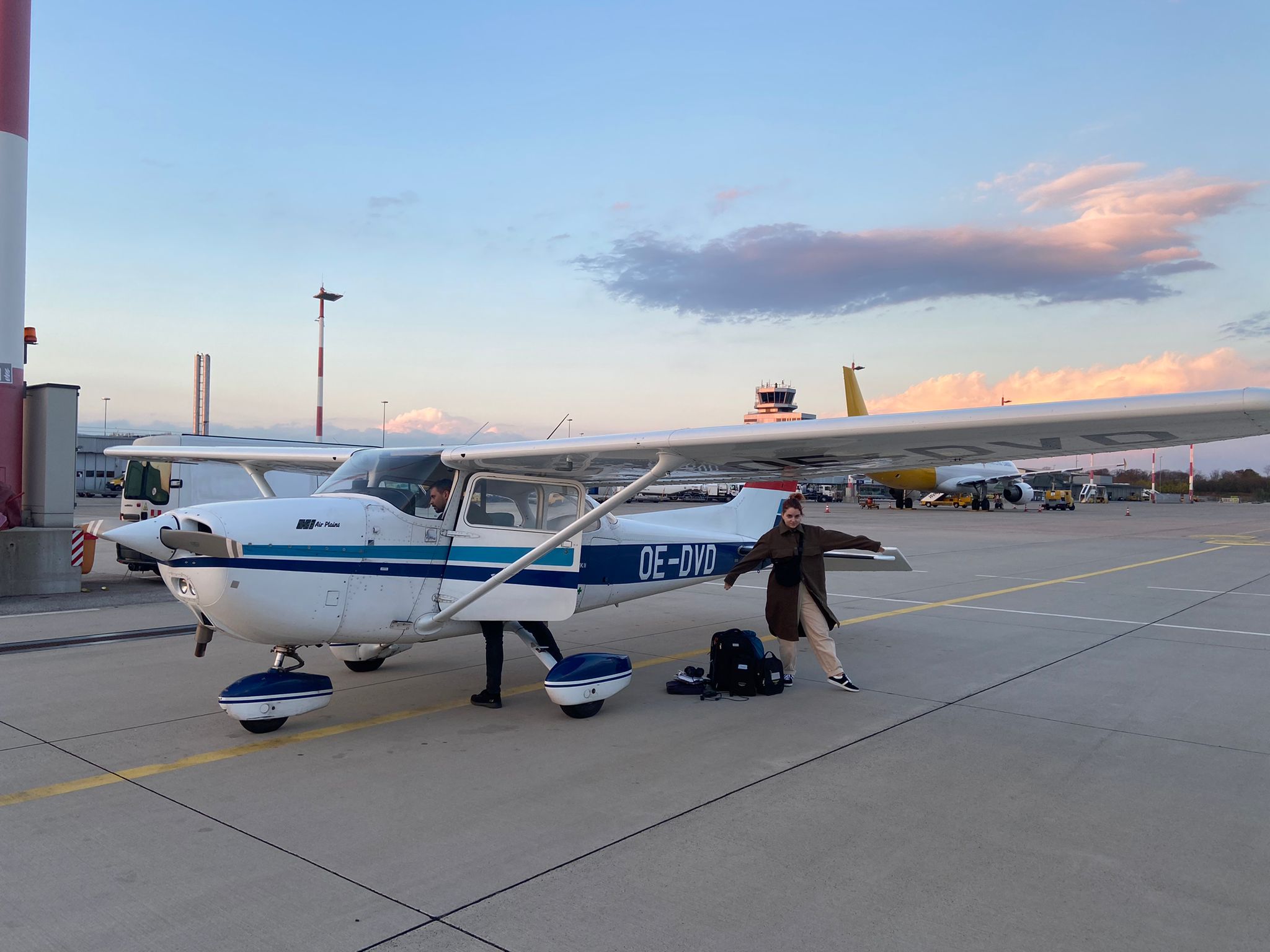 Shortly after fueling the aircraft on LOWL airport also known as LNZ or the LINZ international airport in Austria in the background the tower photo source me myself and I
My fiancé paid for both of us and I asked her if I could pay in crypto or she wanted me to transfer it to her bank account. She looked at me and was like what crypto you want to give me? I ended up thinking a bit and since this was a while ago, I did not think of HBD, my thought was USDC on polygon. It would be a stable coin at least, as it is pegged to the dollar. That is something she can relate to, since she lives with me... I am getting really cryptonerdy sometimes and dump all whats happening in the crypto space on her. In the end I ended up paying my part in hard € cash because I wanted to use my USDC to play around in polycub but thats another story.
THE IDEA
the idea I had, was that it would be awesome to have a list of people around the world who are on hive and also do provide a service or business in their local town wherever they live. Other hivers who are in the same area could pay them in HBD.
how can I reach other HIVEANS who would accept my HBD?
I set up something on my WEBSITE gaming4co.in which I call the hive "yellow pages". Obviously I can not call it like that officially. BUT what I can do is this:
You can offer any real life service or product or just tell us that your shop accepts $HBD. You disclose as much information as you want. you will get listed in the HIVE "yellow pages" we need a name for this and I call it the hive business directory and I created an account called @hivebusiness for this purpose. (unbelievable that this account name was not taken) There is nothing to see yet and that has a reason. There is certain things we have to agree upon.
The hive business directory H.B.D. (mmm coincidence?) for short will only promote local services, that other hivers in that area can pay for with HBD.
By submitting your service or goods you provide a certain amount of data. People will have to contact you somehow. They probably will need to know where they can reach your service.
I am not responsible for what data you provide since you will post with your own account. You are responsible for your account. You hold the keys! If you lose them that is also your responsibility.
What I provide is ad space for 0.1 HBD that is all. This price will probably not hold for long and is a limited offer! You are only allowed to provide a service that is legal and complies with your local laws! The page will simply direct to a post that will be set up similar to the hive hive stock images community index (yes, if you didn't know about it, its a thing). The index will lead to posts published on hive.
My website will provide a direct link to your hive post and the directory and in this directory I will have a link to your hive post about your service.
I will do this manually and if you want to be deleted you will have to ask for it.
I would really appreciate it if I only see serious offers here don't waste my time please.
Should you I will just keep your HBD and say thanks.
How do I sign up?
Rules:
Make a post and tell us what service you provide or what goods you sell. Only local no webshop no dropshipping service. Seriously I will have to go through all the posts manually so don't f... around please!
Describe the service or goods you provide.
Include the price or tell people that they can negotiate a rate with you.
Where do you provide the service?
How can people reach you How can people get in contact with you? email discord phone number whatever you want to use its your choice! But be aware that is going to be there immutable on chain.
Mention the account @hivebusiness and post a link to my website.
THIS LINK: https://gaming4co.in/hivebusiness
send 0.1 HBD to @hivebusiness and put the link to your post in the MEMO field! Ideally you use the account that made the post but you can use any hive account to pay!
make the post look nice! This is your storefront!
provide a cover picture for your service Ideally this is already the title image of your post :)
Each service needs to be listed separately and needs a separate post in the index!
Let me give you an example:
I am Vienna I also own a bunch of old POLAROID cameras. If you travel here you can rent the polaroid camera for the price of 33 HBD for the weekend. Or 2 days. Films are not included. You can pick up the camera at a place we can agree upon on discord: solymi
This is in Vienna only!
Anotherone:
I have a house at lake X you can rent it for your vacation and pay X per night or week. You will get the keys after payment is received at X spot.
Just like airbnb but on hive.
You can see that there is many things you can list. You own a pub? Let the people spend HBD there. You have a nailsalon? Take HBD! The more businesses we can get on this list the better our HBD will stay in circulation.
We somehow have to catgorize the things
thats why it would go into Services and there into rental since my country is Austria it would also go there too.
This will take a while to set it up and if you want to help me it is really appreciated. I am sure there will not be a million requests and if there is I will try to get through them really fast.
How do you like that idea? Would you be part of this?
Let me know in the comments!
If you want to get involved in helping me here it would be really much appreciated!
LET'S CONNECT!
I would really find it helpful if you get into the discussion. You can find me on most of the hive discord channels and you can also contact me via my website https://gaming4co.in/ or 🆒🎮💰🆓.y.at just copy paste these emojis and the .y.at and see where it takes you ;)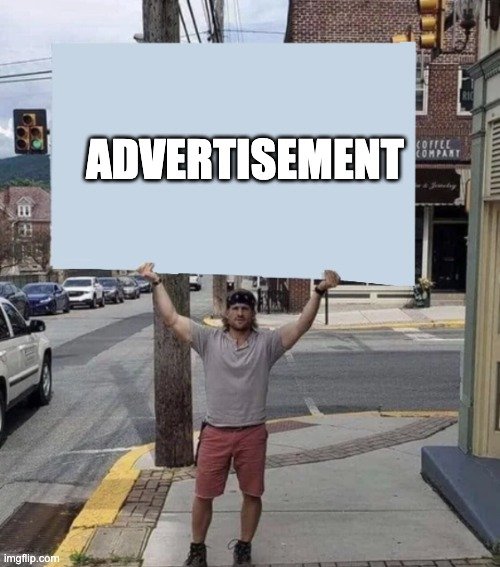 Protect your privacy with a secure VPN connection

Keep your funds secure with a hardware wallet!

Earn crypto for reading and sending emails!

Posted Using LeoFinance Beta
---