Direct from the desk of Dane Williams.
---
We've been watching Bitcoin rangebound and capped by resistance for what seems like an eternity now. Well fellow cryptocurrency enthusiasts, it's time to bring back up those charts because Bitcoin is breaking out!
I want to start with a messy looking Bitcoin daily chart (bear with me for a sec), just for context around where we're at and why this move is significant.
BTC/USD Daily: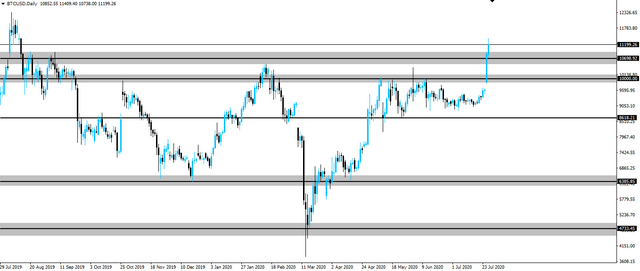 While the media is hyping the $10,000 psychological level, the technicals say the $10,500 - $10,900 range is probably the more significant zone. A zone that Bitcoin has blown through today too so from my point of view, we're still looking bullish.
As we're above higher time frame resistance, we zoom into an intraday chart in order to look for a potential long. The hourly below is my go to.
BTC/USD Hourly: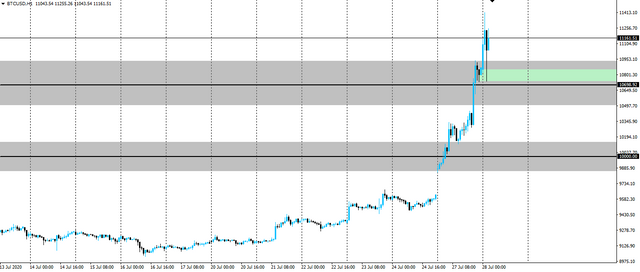 The first thing that stood out to me about today's Bitcoin hourly chart, was how similar the price action looked to that inside yesterday's EUR/JPY long trade idea. Go back and have a read and see for yourself how similar price action plays out around support/resistance across all asset classes.
As we're above higher time frame resistance, we've zoomed into the hourly to look for an area of short term resistance retested as support to manage our risk around. Something I've drawn in using the blue box on the chart above.
While I'm writing this blog, we can see that price has already pulled back into our short term zone (to the pip) and pinged back up. They're the same setups I talk about everyday here on LeoFinance, so hopefully some of you who may have felt you missed the initial breakout surge, got on during the pullback.
I feel like this one has got more legs in it, but predictions are for suckers. All we can do is manage our risk around key zones and put ourselves into a position to take advantage of big moves when they happen.
Best of probabilities to you,
Dane.
---
FOREX BROKR | Hive Blog
Higher time frame market analysis.

Posted Using LeoFinance