Flying High .:. #MyHiveGoals April 25th, 2021
---
As much as content creation and engagement are fun, they can be a bit overwhelming in a certain period of time... I have a feeling that it happens to me at the moment and these goals that I have set for myself are helping very much... They push me back to the keyboard and kicking me back on track... That was the point of creating them and doing these weekly reports!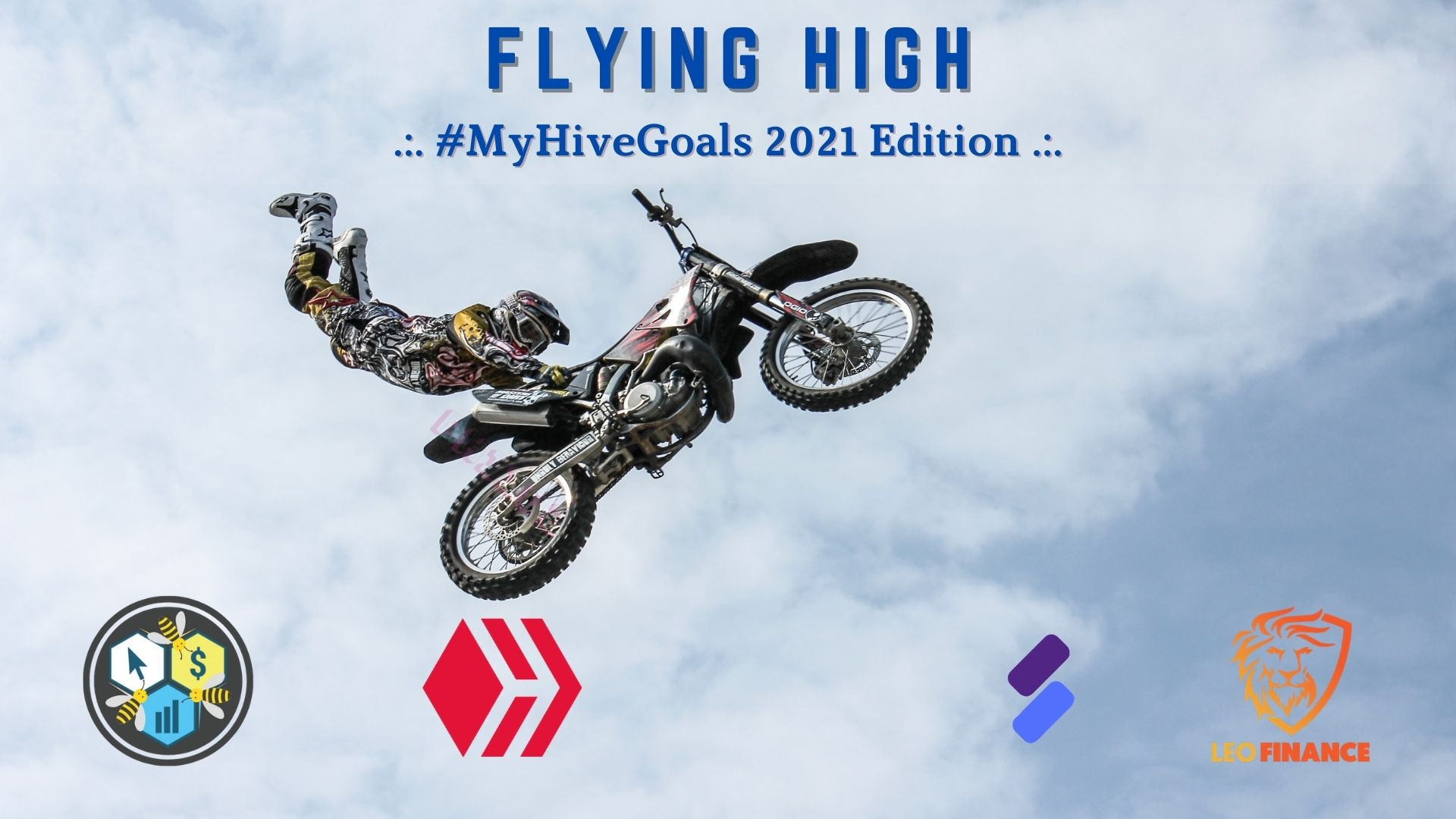 Created in Canva.com
It's easy to fly when you have wings and it's easy to create and push when the "general feeling" is positive and everyone is pushing you forward... When hard times come, then we need additional fuel and creativity to be able to fly... Just 1-2 weeks ago I was dreaming about raising some of my goals as I (was) am doing well, and just 2 skipped days without the content creation made me think about the failure...
It's not that bad at all, and it's probably my headache talks for me, but we have to be honest with ourselves and admit that we have a problem... It's just a phase that will pass, but it's good to recognize it, and as I like to say, it's easier to battle when you know who is your opponent...
Let's go back to the goals... As that is the point of these reports... I have added 70 Hive Power to my goal from the last week and made that field in the table a bit more greener... So, that's covered for April... ;)

As I'm not creating on LEO Finance every day, the additional 78 LEO Power that I have added to my LEO Power goals in the past week is very surprising! But, I suppose that I know from where that came... Firstly, the price of LEO went down and I'm getting more rewards in LEO for my delegation to the leo.voter... And secondly, I think that a lot of people jumped on CUBDefi and added their LEO in the liquidity pool there, so fewer people are staking and curating on the LeoFinance, which means more rewards for those who are doing...

As I said in the last week's report, I was worried about my CTP Power goal at the beginning, but lately, it's developing very nicely... I suppose that the big game changer was the change to the linear reward curve... I wasn't paying attention to my voting "time", and I was (and I'm still) upvoting a lot of comments with my .ctp account... All that cost me a lot of rewards, which are now rewarded with a linear curve... So, I have added over 1300 CTP tokens in a week, and my yearly goal looks a lot more achievable!
The SPORTS POWER goal is one of those which are developing as planned... The only thing that I need to do is to be consistent and create and curate every day... Sounds so easy when you wrote it down... It's not that easy to follow that every... single... day...

Regarding my GAMING GOALS, they are doing the same as the week before... Where we don't need too many updates and changes, we have plenty (Rising Star), and where we need all that, we don't have any (DCity)... :)
So, the RISING STAR goal looks scary, but I have a plan how to achieve it... and it develops very well until now, and I don't see any obstacle why it shouldn't continue doing that... So, no worries about it... Yes, it is still in RED, but the difference gap is shrinking...
My DCITY is doing great, but I'm not that excited about that as the game is stagnating for a long time... Updates have been delayed for a couple of months, and the battle with high taxes is continued... Daily SIM rewards are great, but the problem is that I'm counting the "BASE" income, which is crippled down by taxes a lot... But, no QUITTING!

In the end, I would like to make an update of my current numbers (April 25th, 2021) on #MyHiveGoals: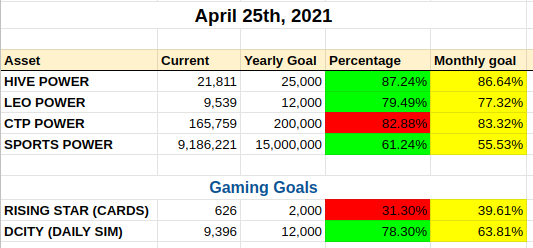 Join us in this awesome #MyHiveGoals and let's grow together! You can find the original post about the challenge by @robwillmann here: https://peakd.com/myhivegoals/@robwillmann/new-challenge-myhivegoals-set-and-achieve-your-goals
Thank you for your time,
~ph~

The link to my initial 2021 Goals Edition is here...
These are my initial goals for 2021 on January 15th, 2021, and this #MyHiveGoals Challenge:
HIVE POWER - 20,000 / 25,000    80.00%  needed monthly grow 1.66%
LEO POWER     - 8,000 / 12,000  66.00%  needed monthly grow 2.83%
CTP POWER - 150,000 / 200,000   75.00%  needed monthly grow 2.08%
SPORTS POWER   - 5M / 15M       33.33%  needed monthly grow 5.55%

Gaming Goals:
RISING STAR (CARDS) - 189 / 2,000    9.45%  needed monthly grow 7.54%
DCITY (DAILY SIM) - 5,488/ 12,000   45.73%  needed monthly grow 4.52%   (base Income - before taxes)


If you want to support my witness, you can do it by voting for @ph1102.ctp here https://tribaldex.com/witnesses, or just scan the QR code down below...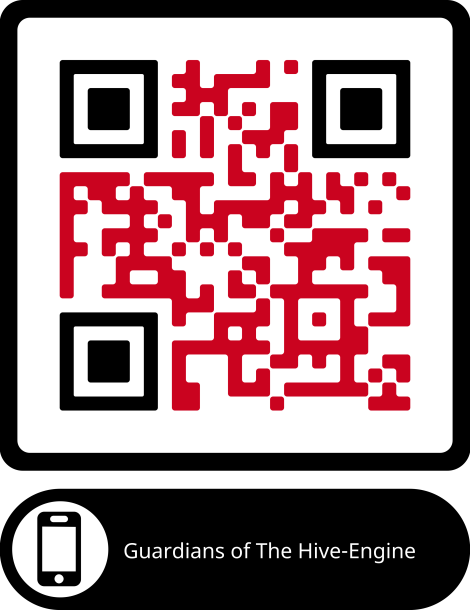 Don't forget to follow, reblog, and browse my Hivepage to stay connected with all the great stuff!
You can also find me on LEO Finance .:. Twitter .:. LBRY
Posted Using LeoFinance Beta
---