Osmosis and Akash - A Match Made In Decentralized Heaven.
---
The Osmosis Dex has been slated to launch on 17th June. This is the first in a number of big steps in the path for DeFi on Cosmos to hit the big time. The Cosmos eco-system is a network of independent chains, that can now be linked together and communicate with each other through an upgrade called IBC (Inter-Blockchain Communication). The team from Osmosis is looking to be first to market with a Dex that is fully utilizing the IBC system to link IBC enabled projects together in a flexible, highly customizable AMM protocol. Launching a new Cosmos SDK based blockchain (Osmosis) with it's own native token $OSMO on the 17th June, barring any unforeseen issues.
Image Source: Osmosis Medium blog
A month ago, I posted for the first time about Osmosis, and you can get a basic overview of the project in this post. Since the, there have been a number of updates as the project gets closer to launch. On May 28, they published their detailed token distribution model featuring an annual "thirdening" of inflation, with a max token supply of 1 billion to be reached after 10 years. 45% of inflation will go to Liquidity Mining Incentives, 25% to Staking rewards (Osmosis will be a POS chain), 25% to a developer vesting fund and 5% a Community Pool.
Anyone that held ATOM tokens in a non-custodial wallet (not on a CEX) during a snapshot taken on Feb 18 will receive an airdrop. If this applies to you, you can check how much you will get at this link by simply entering your ATOM wallet address where you held your ATOM's at that time (staked or unstaked). ATOM holders who had their tokens staked at the time will get a higher airdrop in general.
Portions of the airdrop will be contingent on performing certain actions with the initial 20% given out. In the following image, you can see that actions such as staking OSMO, voting on a governance proposal, adding to an LP and making a swap will be required to unlock the full airdrop amount.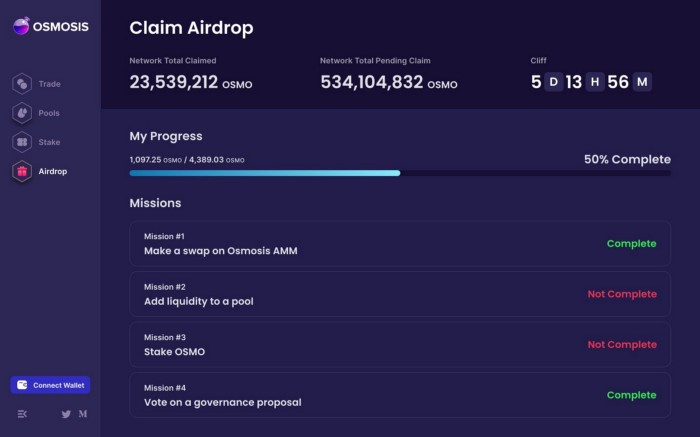 Image Source: OSMO token distribution blog post
---
Akash enters the Conversation.
Akash is a decentralized cloud computing marketplace, Built on an IBC enabled Cosmos SDK blockchain. The marketplace matches those suppliers with spare computing power, with those looking for a cloud computing solution that would currently end up on a centralized service like AWS, Google cloud and so on. The addressable market is huge, and the cost of Akash services is an order of magnitude lower than the major players. Much of the compute available currently is provided by Equinix Metal, the worlds leading data center provider with over 220 facilities in 60 markets around the world. So, the service Akash is providing has the best in the business underpinning its offering, with opportunities for anyone to provide and be rewarded for spare computing power in time.
Akash's marketplace is live, the chain is running on Mainnet 2 which is the start of its full services. Currently there have been well over 5,000 unique deployments on the Akash network since the Mainnet launch a few months ago.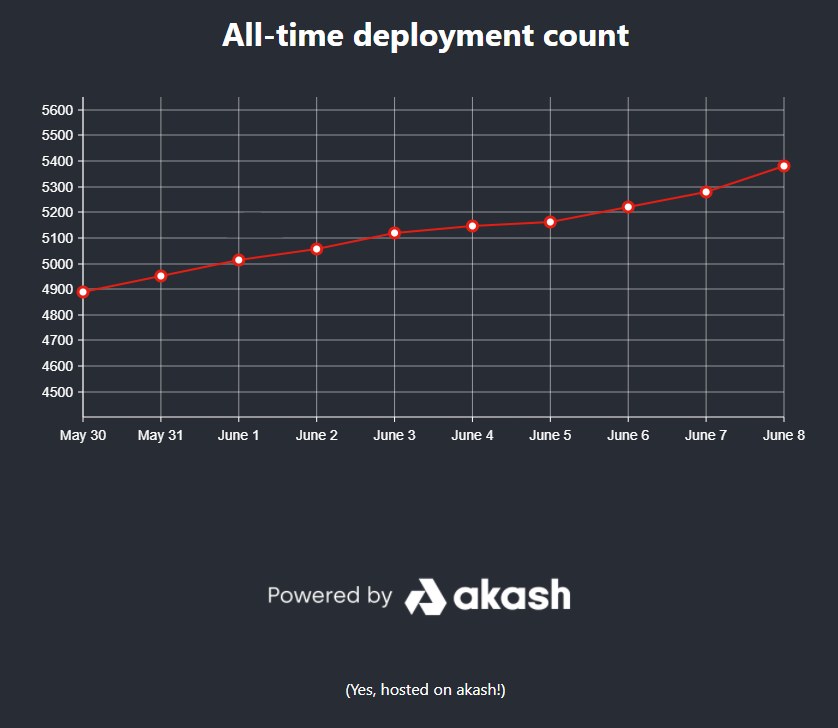 Image Source: Akashlytics statistics site
The first Osmosis/Akash link.
As one of the biggest Cosmos based tokens (after ATOM itself) to have the IBC upgrade completed, The Akash token $AKT is likely to play a significant role in the early days of Osmosis. Akash community members have been looking for more liquidity and better availability for the token, with it currently available mainly on lower tier CEXs. Recently added to Bittrex Global, Exchange listings have come at a slow and steady pace. Osmosis, as the first DEX that will carry native AKT will gain much attention and improve the accessibility for potential Akash investors. It is highly likely (although not guaranteed, as all incentivized pools will be decided by vote of OSMO holders through its governance model) that Liquidity Pools containing Akash will be amongst the first to be incentivized, once early voting occurs in the first few days of Osmosis.
AKT/ATOM, AKT/OSMO and other pools are all likely to be launched within days of the the Osmosis launch, along with multi-coin pools (like you find on Balancer) including AKT. All of this will bring significant benefits to both AKT holders (by earning OSMO from liquidity mining) and the Osmosis platform (trade volume and TVL). I'm personally hoping for a multi-coin pool for OSMO, ATOM, AKT, and another project I haven't posted about yet called XPRT (Persistence). 25% weighting for each, so I can use it to accumulate a portfolio position for the long term in these projects. I may even have to set such a pool up myself, once this can be done.
The other big news linking the two projects.
In a twitter thread a short time ago, the Akash CEO - Greg Osuri confirmed that Akash will not only have its first DEX as Osmosis, it will also in fact be hosting the Osmosis service on it's platform.
The first DEX for $AKT will also be hosted on Akashnet
Quoted tweet
So the first DEX, to be hosted on a decentralized cloud service, improving the regulatory and centralization risk of running on AWS for example, will be Osmosis running on Akash. This will be a major selling point for both projects, and inextricably link the two together. Osmosis will not have the risk of one day being simply switched off by a Centralized cloud provider, and Akash will have a shining example to the entire crypto community of the benefits of using a decentralized cloud. A definite win/win for the two projects.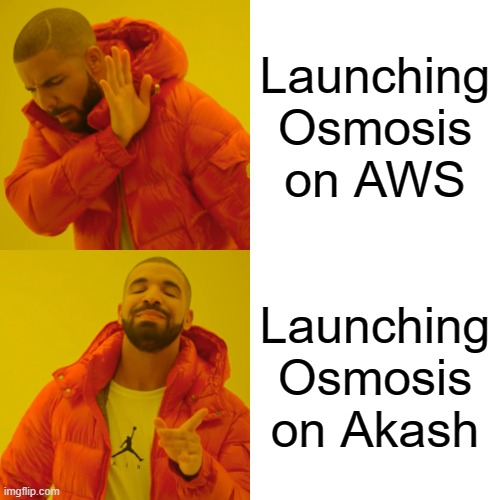 Meme created at Imgflip
Bring on June 17!!

If you would like to learn more about some of the emerging DeFi on Cosmos projects, check out the following links:
"Cosmos Based DeFi" series:
---
This post was created on LeoFinance, a tokenized blogging community focused on Crypto and Financial content. It is free to join and a great place to learn more or create content about your favorite crypto projects. Just click the "Get Started" link in the top right. Creating your account is simple with Metamask and Twitter options.

Thanks for reading, feel free to share the following twitter and Reddit links.
Cheers,
JK.
Posted Using LeoFinance Beta
---