Staking SPS? Every Addition has a Compounding Effect
---
Just a few days ago, I shared m thoughts on the case for $1 SPS. When looking at the value that Splinterlands is giving to its users and how fast its ecosystem is growing in development, partnerships, transactions and number of active users, we can say that it is imminent that $SPS token would bounce back to the $1 price value in the near future. it could be in the short or long term, however, it will be.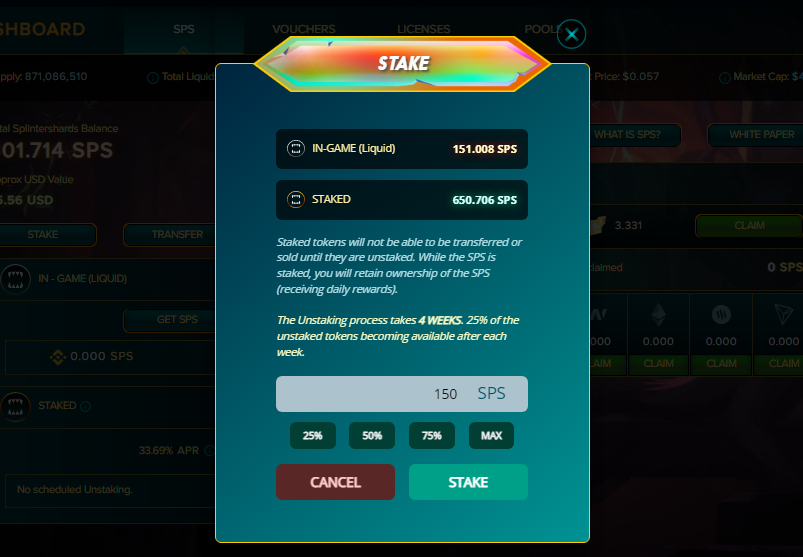 Transaction ID
Today, I decided to add 150 SPS tokens to my stake to bring my staked SPS to 800. I believe so hard in gradual and organic growth perhaps because of my financial stance or perhaps it could be a way to cushion myself against unbearable risks. Whatever the case, I have learnt over time to stack my bags in bits and it drops. It builds up into something huge on the long run.
Just moments ago, I shared how I made my first million blogging on LeoFinance. It was a journey of 10 months of consistent content creation and curation in the Leo community. I ensured I added to my LEO stake each week, month and at whatever interval as I earned it. I am adopting this strategy for my SPS holdings.
I was endeared to adding SPS and other Splinterlands assets to my crypto portfolio last year when I started receiving the SPS airdrop. Though I didn't notice earlier that I had some substantial amount of tokens, I started giving it more attention the moment I read the roadmap of Splintrlands development and the quest for expansion and utility addition.

All earned SPS tokens are staked to earn more at around 30% APY. Holding 800 tokens at $0.06 price is decent for me and I hope I can still be adding in bits till I reach the 5k, 10k SPS mark and even more. Abyone that has understudied the trends would tell that every crypto investment would pay off big when done with a long term mindset.
Splinterlands is a future minded play-to-earn development in the Hive blockchain. The coming additions to the ecosystem such as SPS governance, Genesis League Soccer, SPS listing on Huobi exchange, partnering with EMP Money and lots more are indicators of a green future for the $SPS token. When all of that has been achieved, then we are sure that the number of users will grow alongside with demand for the token.
It is beautiful to see that about 50% of the total supply of SPS has been staked and that means that signals a hodling into the long term. As the next phases of events unfold for the top blockchain based play2earn game, it is important that every investor defines a strategy that suits his budget to be a part of the future that would happen around Splinterlands.
Staking SPS is just one of the many passive ways of earning crypto within the Splinterlands ecosystem. While it may not be the highest paying investment option, for me, it looks like the safest.
It can only get better!

Splinterlands game is termed the "next generation of collectible card games" in which allows players to collect, trade, and battle with provably scarce digital collectibles with real-world value. Battles on Splinterlands Unlike most trading card games, are fast and furious, and are usually completed within few minutes. The Splinterlands gameplay is simple and easy to learn viz: reviewing combat rules, making and submitting of the team and watching the battle unfold.
---
Posted Using LeoFinance Beta
---