Welcome to the Daily Crypto News: A complete News Review, Coin Calendar and Analysis. Enjoy!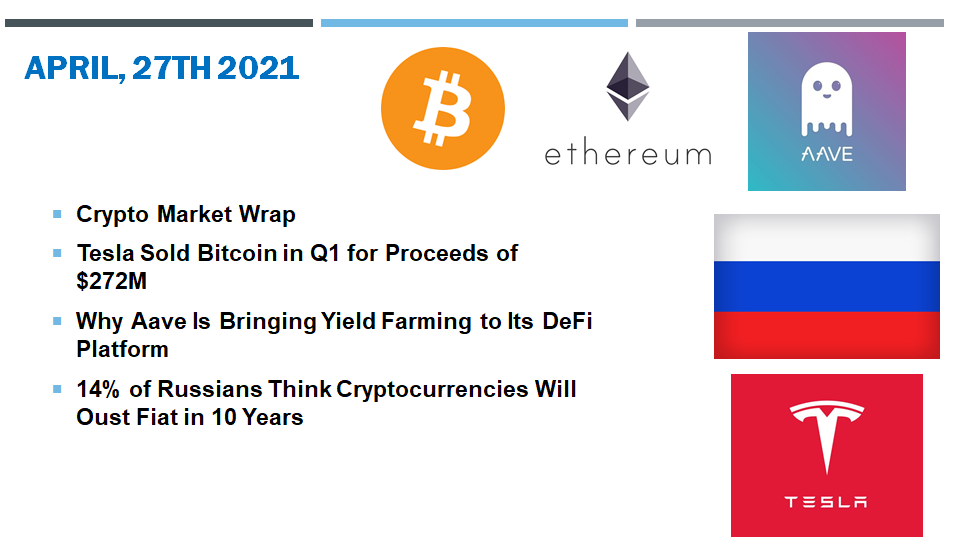 The price of bitcoin headed towards bearish territory Sunday before bouncing. Ether's average fees have dropped over the past seven days, creating a potential trading advantage for some.
Bitcoin's 24-hour range: $47,272-$54,340 (CoinDesk 20)
BTC above the 10-hour but and 50-hour moving average on the hourly chart, a bullish signal for market technicians.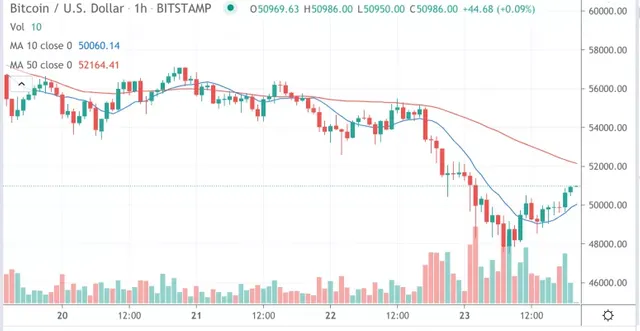 "The bounce should persist this week," Stockton wrote in her "Cryptocurrency Compass" report on Monday. "But the recent loss of intermediate-term momentum suggests bitcoin will meet resistance below $62,000."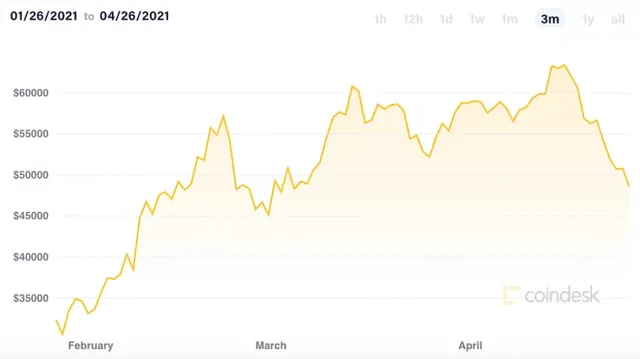 "I think we are seeing more regulations around digital assets implemented globally," Gord said. "This might cause investors to take a more conservative wait-and-see approach and perhaps exit some positions to hedge the risk."
In the derivatives market, funding rates had turned negative, generally seen as sign that traders aren't hungry for long leverage. They are still near zero, according to data aggregator Skew.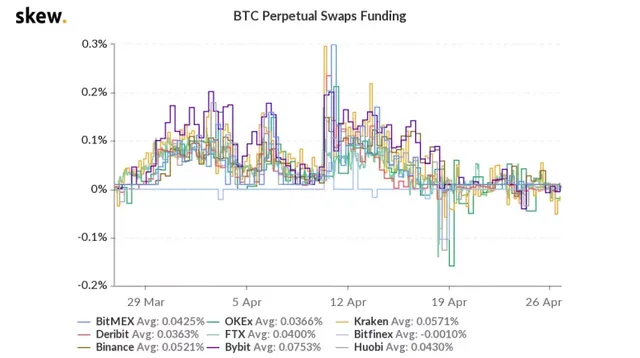 Ether fees drop, but at what cost?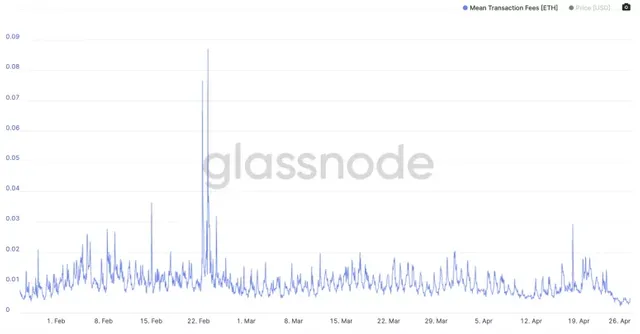 Over the past three months, the average fee paid on the Ethereum network to conduct transactions was approximately 0.0097 ETH. However, in the past week that average has dropped to 0.0079 ETH. It works out to an 18% reduction in the average cost of using the network, the primary ecosystem for decentralized finance (DeFi), consisting of programmable blockchain applications for trading, lending and derivatives.
Many might welcome this news, as often Ethereum network fees have been so expensive that DeFi applications are unusable and more expensive than centralized or traditional financial platforms.
"Basically, some of the bots decided to work with miners and there are immense amounts of zero-gas transactions mined," Chan told CoinDesk. "The problem is that only whitelisted miners will be able to see these transactions, unlike where everyone can see in mempool."
The sale trimmed Tesla's position by 10%, Tesla CFO Zach Kirkhorn said on an earnings call Monday.
In the slide deck accompanying the company's first-quarter earnings results Monday, Tesla mentioned the sale of some bitcoin:
"Year over year, positive impacts from volume growth, regulatory credit revenue growth, gross margin improvement driven by further product cost reductions and sale of Bitcoin ($101M positive impact, net of related impairments, in 'Restructuring & Other' line) were mainly offset by a lower ASP, increased SBC, additional supply chain costs, R&D investments and other items. Model S and Model X changeover costs negatively impacted both gross profit as well as R&D expenses."
Elon Musk's electric vehicle company purchased $1.5 billion worth of bitcoin in February.

Kirkhorn said on the call that Tesla invested in bitcoin to earn yield on its excess cash in a low-interest-rate environment.
Despite the popularity of liquidity mining, Aave has never implemented a liquidity mining program.
*Thanks to a user proposal, it's begun a three-month program starting today.
In the "DeFi Summer" of 2020, Compound brought the heat by pulling out an old concept, liquidity mining. Its willingness to reward lenders and borrowers in its COMP governance tokens helped make it the biggest lender in all of Ethereum.
Now, in an effort to keep pace, decentralized finance (DeFi) competitor Aave is trying out its own liquidity mining program. Starting today, the platform will pay its users in Staked Aave (stkAAVE) when they lend or borrow Ethereum, Wrapped Bitcoin, or stablecoins DAI, GUSD, USDC, and USDT. And we're not talking about a few extra pennies.
Liquidity mining, also known as "yield farming," involves pooling your cryptocurrency into a fund so it can be lent out to others—not much different from a savings account or certificate of deposit (the latter of which pays more in exchange for an inability to move it). In exchange for providing the exchange or protocol with liquidity, it rewards you with another type of token.
A new survey revealed the different stances of Russians toward cryptocurrencies and fiat currency. Specifically, some of the respondents believe digital assets will replace fiat in ten years.
Residents in Moscow Believe Cryptos Will Replace Fiat, While Others Are Skeptical
According to Nord News, the research was conducted by Otkritie Bank, a Moscow-based financial institution and one of the top ten banks in the country. It found that 14% of the 1,000 surveyed had an optimistic belief in digital currencies and the future years ahead.
The bank collected responses from people aged 18-65 across the largest cities in Russia between April 12 and April 16. Although 8% of the respondents from the Northwest region think crypto assets will oust fiat currency in ten years, 21% of the residents in Moscow believe otherwise.
In fact, four out of ten in the Russian capital city foresee banks reinventing themselves into "digital ecosystems," as the crypto industry keeps developing and extending its arms.
The traditional thinking on fiat still lies among the Northwestern Federal District, as 34% of the respondents "believe that cryptocurrencies cannot replace traditional currencies in anything," stated the survey.
🗞 Daily Crypto Calendar, April, 27th💰

Chiliz (CHZ), Polkadot (DOT)
"CHZ/EUR and DOT/EUR just entered post-only mode until tomorrow at 10 am CET"
Tuesday, April 27th Ryan collaborates with Graffiti-artist Bustart for his first drop.
Energy Tech Summit from April 27th - 29th.
"Coming to BInance Smart Chain the final version with SWOG Music, and a Bakery Featured Artist!"
Bluzelle (BLZ), Filecoin (FIL), IoTeX (IOTX), NKN (NKN), Storj (STORJ), Theta Network (THETA)
CTOs from @Bluzelle, Filecoin, IoTex, NKN, Storj, Taxa, Theta will share their experience about web 3.0 infra and app development.


➡️ Leofinance
➡️ Youtube
➡️ LBRY
➡️ Twitter
➡️ Publish0x
➡️ Den.Social
➡️ Torum
➡️ Spotify
➡️ Be paid daily to browse with Brave Internet Browser
➡️ A secure and easy wallet to use: Atomic Wallet
➡️ Invest and Trade on Binance and get a % of fees back
➡️ Check out my video on Unstoppable Domains and get 10$ off a 40$ domain purchase
➡️ Get 25$ free by ordering a free Visa Card on Crypto.com using this link or using this code qs4ha45pvh
Posted Using LeoFinance Beta