kUSD, the Kalata Protocol "StableCoin"
---
Hello HODLers,
A few weeks ago I wrote about Kalata: Derivatives platform on BSC
and it has been thriving since. Their main token $KALA went from 0.25 to $0.75 and their TVL is >$20mn.
This is a derivatives platform aiming to introduce assets outside the crypto world on chain. At the moment they have implemented the kCOIN which is supposed to be equivalent to a share of Coinbase Inc.
Disclaimer: This is a risky project, very new with unknown founder. They have connection to a lot of other BSC blue chip but still risky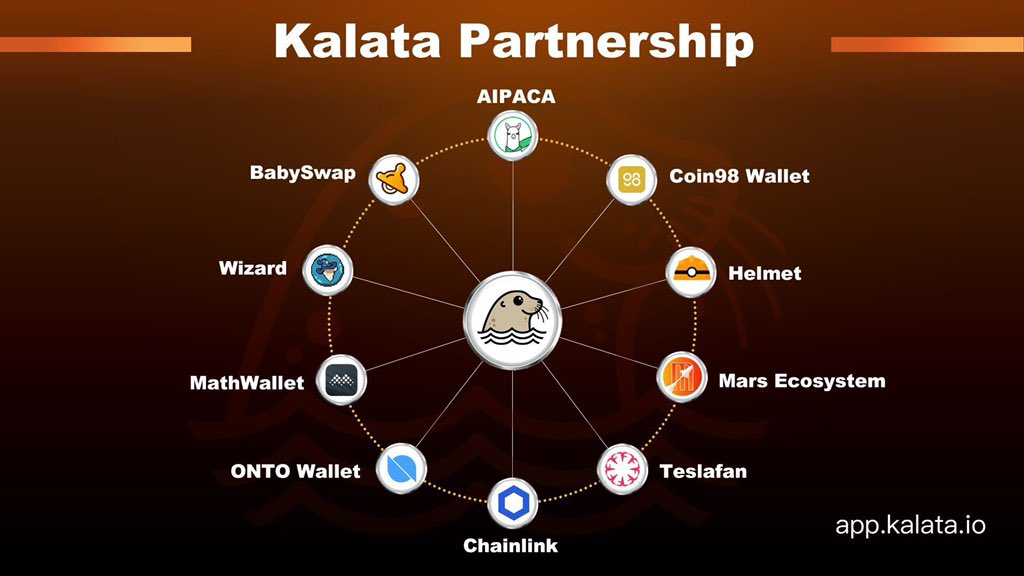 Kalata ($KALA) Price Charts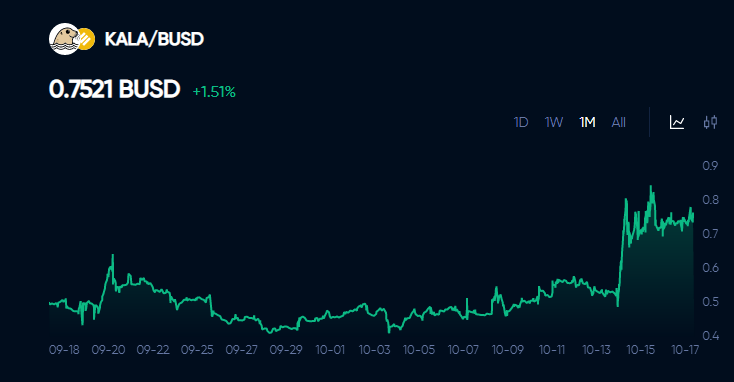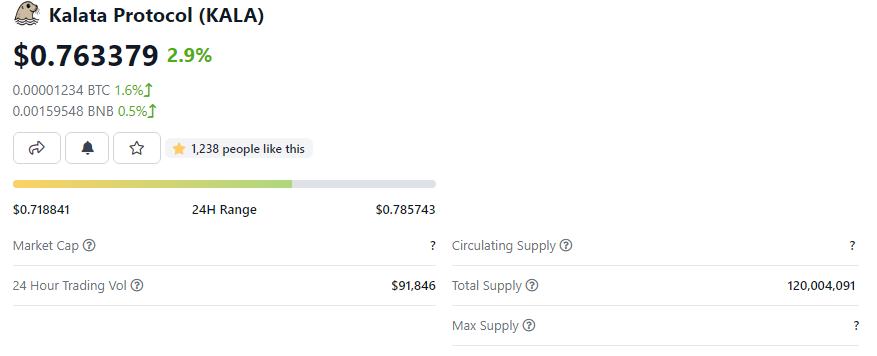 As we can see in the Coingecko's page, there is no max supply listed. This is something I need to check out.

Investing in their own kUSD
kUSD is their own stablecoin. At the moment it trades at a discount to 1$ (around 80-85 cents). These lower projects stablecoins are always very volatile as the pairs and supply are low.
I decided to gamble and converted 1BNB for 568 kUSD a day ago. As you can see below, a BNB is now worth 588 kUSD but BNB did rise in price even compared to USDT/BUSD.
I am going to see how much I have in one month. Hopefully it will go back closer to the PEG and I will have earn free $KALA on top of it.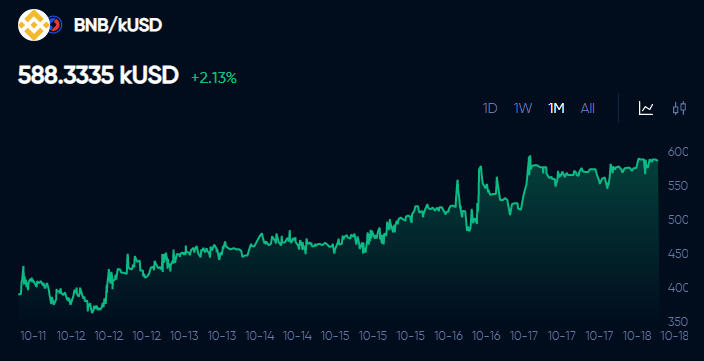 Pools available
Many different pools are available and offer great APR. I staked my kUSD for a 80%+ APR (paid in $KALA).
As an important caveat, once you stake you earn $KALA but you need to unlock them by having some position in the BUSD-KALA pool for now. This can be a 2 steps strategy:
Step 1: Staking a pair and earning a lot of $KALA.
Step 2: Pairing BUSD-KALA to unlock your earnings
Official Tutorial available here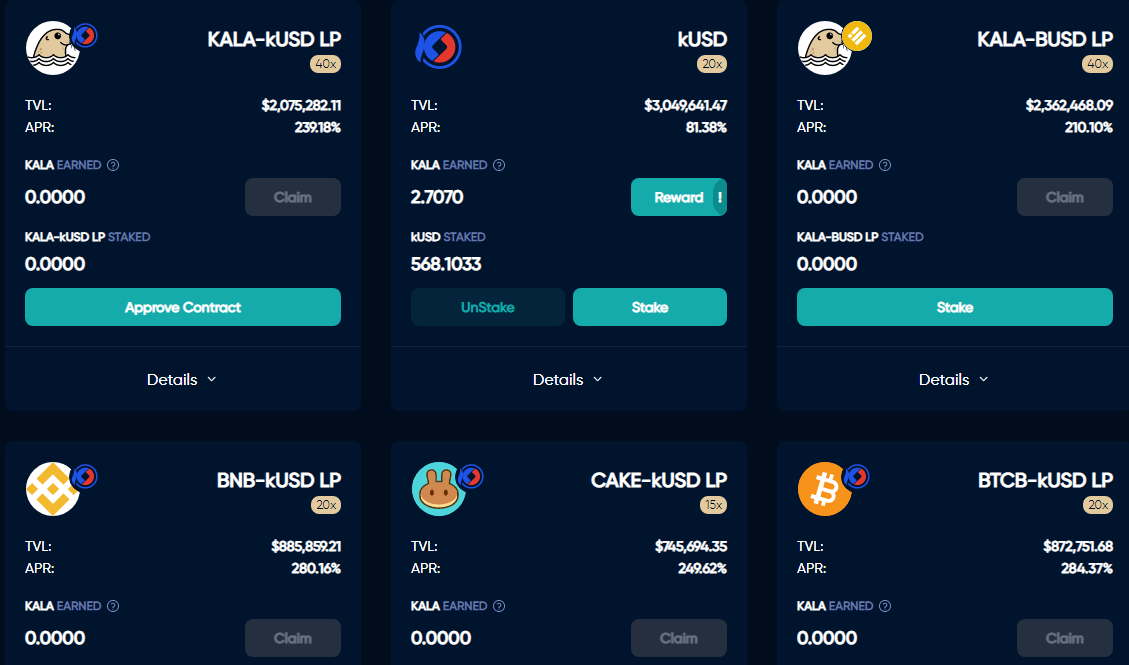 Minting assets with kUSD, KALA & BUSD
Finally once you made some profits in kUSD or KALA you can use them to mint a kCOIN (only option at the moment) using your assets as collateral.
The minimum ratio is 150% but I would put at least 200%+ if I was minting as kCOIN, kUSD and KALA might be very volatile and you do not want to be liquidated !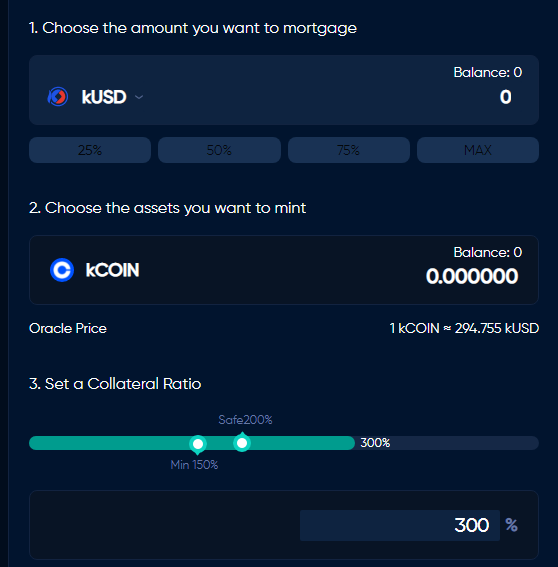 Latest Analysis
Posted Using LeoFinance Beta
---