Welcome to the Daily Crypto News: A complete News Review, Coin Calendar and Analysis. Enjoy!
Traders and analysts continue to talk up ether and alternative cryptocurrencies as bitcoin struggles to regain the $64,000 record price level attained weeks ago.
Bitcoin's 24-hour range: $52,622-$55,851 (CoinDesk 20)
BTC below the 10-hour and the 50-hour moving averages on the hourly chart, a bearish signal for market technicians.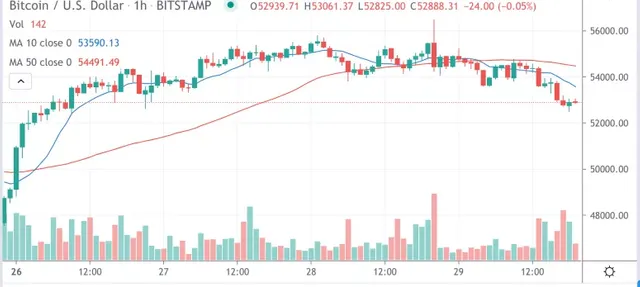 The price of bitcoin was dropping Thursday, going as low as $52,622 and settling at $52,964 as of press time. There's been an almost $3,000 price change over the past 24 hours for the world's oldest cryptocurrency, ranging from $55,851 down to $52,622.
Bitcoin market dominance
The market dominance of bitcoin continues to decline, and it's less than half of the total blockchain market Thursday. At 49.5% at press time it is down from 73% at the start of 2021.
"Crypto natives might be taking profits in BTC to free up some capital to invest in alts," Rosenblum said.
Ether breaks new record, again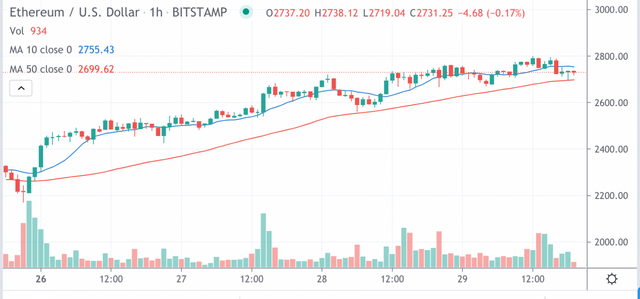 The second-largest cryptocurrency by market capitalization was trading around $2,708 as of 21:00 UTC (4:00 p.m. ET), down 0.75% over the prior 24 hours.
"Since the end of March, we've seen ETH going stronger against BTC," said Élie Le Rest, partner at crypto quantitative trading firm ExoAlpha.
The technical proposal EIP 1559 to fix the Ethereum blockchain's problematic capacity constraints may be aiding in the bullish sentiment.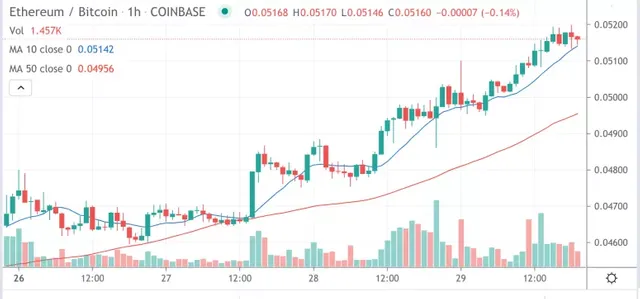 "This is significant as ETH/BTC had been in the ~0.02-0.04 BTC range for almost the past two years, but recently just hit ~0.05 BTC" Lau said.
BNB now non-negligible share of digital-asset markets
One of the biggest gainers in the altcoin space this year is Binance coin (BNB), an asset used to offset trading fees charged on the Binance exchange. On a percentage basis, BNB's dominance, the share it takes up of total crypto market capitalization, has gained over 550% since the start of 2021. As of press time, BNB's market dominance is at 4.4%.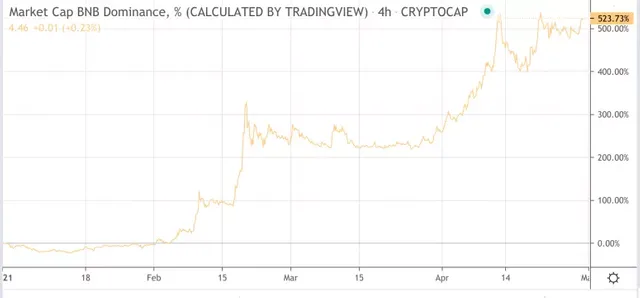 China has been actively looking to increase its capabilities in the blockchain and distributed ledger space.
Most of the world's bitcoin mines are concentrated in China.
The rollout of China's digital yuan project is being viewed by some as a long-term threat to the US dollar.
America's relationship with China could be best described as "frosty". The first and second-largest economies in the world have increasingly found themselves at loggerheads; from trade to finance, artificial intelligence to telecoms.
China and the US have also clashed diplomatically over China's handling of its neighbors, in particular, Taiwan.
In technology, there is a significant rivalry between the two countries when it comes to 5G. The rollout of Huawei's 5G network - which some claimed was a ploy by the Chinese state to spy on its rivals - in Europe was met with pressure from US regulators who lobbied to keep Chinese companies out of American allies' digital infrastructure.
China's dominance over Bitcoin mining
In 2020, China controlled nearly 80% of the global processing power that runs the Bitcoin network - meaning the majority of the world's Bitcoin transactions are routed through machines in the country.
The reason? Cheap electricity and access to the latest and greatest in mining hardware.
This has kickstarted a movement in the US to help claw back some of Chinese miners' dominance. Core Scientific, a US company building Bitcoin mining operations in the US has raised hundreds of millions of dollars to establish mines in disused factories across America. Others have joined them.
As the Coinbase public listing approached, many analysts were looking for a $100 billion valuation. The cryptocurrency exchange, founded by Brian Armstrong and Fred Ehrsam, hit that mark briefly after listing, but COIN has settled down to a less-rarified valuation.
Meanwhile, CoinGecko calculates a total market capitalization of $128 billion for decentralized finance (DeFi), the corner of the cryptocurrency industry that represents a wide range of lending, trading and betting activities carried out almost entirely on blockchain networks using tokens as proceeds and collateral.

Those aforementioned deposited assets are referred to as total value locked (TVL). TVL on Ethereum, using the most widely cited data site, DeFi Pulse, is $66 billion as of this writing, more than quadrupling since Jan. 1 when it was $15 billion.
DeFi vs. ICOs
Here's a chart that compares funds entrusted to Ethereum's many DeFi smart contracts in the last year or so to funds that went to founders in initial coin offerings during the 2017-2018 boom (an updated version of one published here):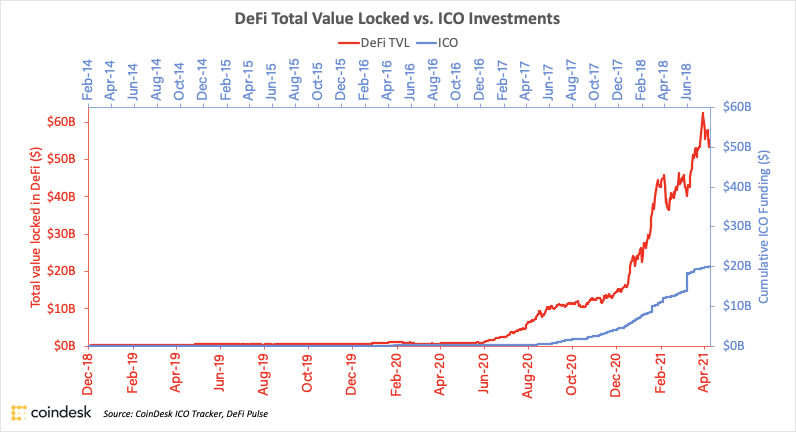 It should be noted that DeFi Pulse was in the midst of updating how it tracks the TVL for the robo-adviser for yield, Yearn Finance, when this was made, and so those numbers aren't in this graph. According to Yearn itself, though, it has had several billion dollars tied up.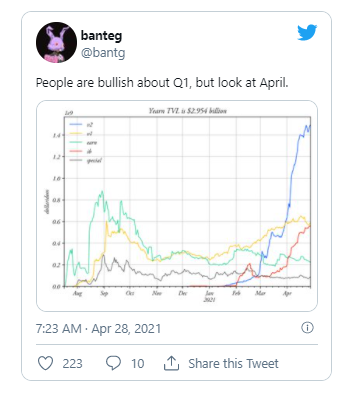 Coinbase is allowing U.S. users to buy cryptocurrency with their PayPal accounts in a major expansion of the exchange's funding rails.
The option, announced Thursday, could cost unwitting users substantial sums in fees.
It is also another sign of crypto's increasing mainstream acceptance. PayPal, long coy and standoffish about the sector, began allowing users to buy crypto on its own platform last year and has gradually expanded this service. Coinbase, one of the crypto industry's oldest startups, recently listed its shares on the Nasdaq.
Coinbase users can now buy up to $25,000 in crypto daily using PayPal, according to the exchange's settings page. They'll lose nearly 4% of such purchases to PayPal-specific fees.
🗞 Daily Crypto Calendar, April, 30th💰

New Exchange Tokenomic Design, ShibaSwap. Coming in Late April 2021.
"Strategic partnerships (trading, ecommerce, ...)," during April.
"Gamification launch," during April.
"New teams/sports," during April.
"V2 Launching on April 2021."
An ecosystem partnership between Hotbit <> Seedify.fund as well as exchange listing.
"With almost 2 years of development, @sycoin and @BlockFoundry are proud to present the launch of Syscoin LUX!"


➡️ Leofinance
➡️ Youtube
➡️ LBRY
➡️ Twitter
➡️ Publish0x
➡️ Den.Social
➡️ Torum
➡️ Spotify
➡️ Be paid daily to browse with Brave Internet Browser
➡️ A secure and easy wallet to use: Atomic Wallet
➡️ Invest and Trade on Binance and get a % of fees back
➡️ Check out my video on Unstoppable Domains and get 10$ off a 40$ domain purchase
➡️ Get 25$ free by ordering a free Visa Card on Crypto.com using this link or using this code qs4ha45pvh
Posted Using LeoFinance Beta